I'm always fascinated about the transformations in the garden each year.  From month to month and season to season, small adjustments often result in big changes.
Here are some of the new plants and hardscape changes in my landscape this year.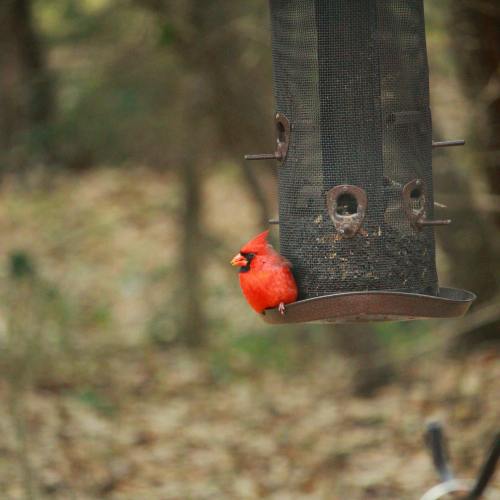 January:  We enjoy watching the animals that wander, fly and hop into our garden.  My husband keeps about 10 bird feeders full.  We regularly see cardinals, titmice, sparrows, scrub jays and blue jays, wrens, mockingbirds, road runners, woodpeckers, finches, doves, cliff swallows, and every couple of years, a painted bunting.  Several birdbaths and birdbath fountains provide water for sipping and bathing.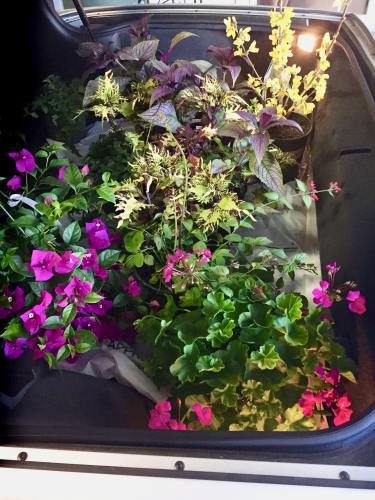 February:  Last year, spring came very early, and the nurseries were full of beautiful plants at least a month ahead of schedule.  If they are selling them, we should be buying them, right?
I didn't count how many trips I made to our independent nurseries in Austin.  Several times a year, I make all the rounds and come home with the SUV full of flowering friends.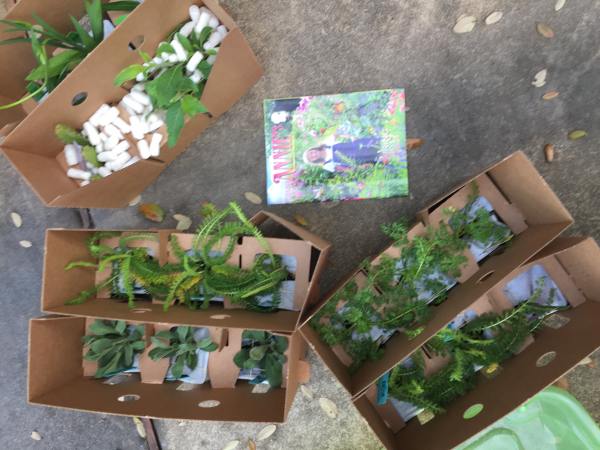 Orders I placed over the winter also begin to arrive, ready to join the garden.  The slew of catalogs, full of vibrant photos of unique plant specimens give us visions of plants as we settle in for our long winters naps
They provide promise as gardeners experiment with new colors, sizes and varieties.
March:  I was delighted with the spread of my ground orchids this spring.  The Bletilla striata finally began to naturalize in the woodland garden, making the shady path pop with brilliant fuchsia blooms.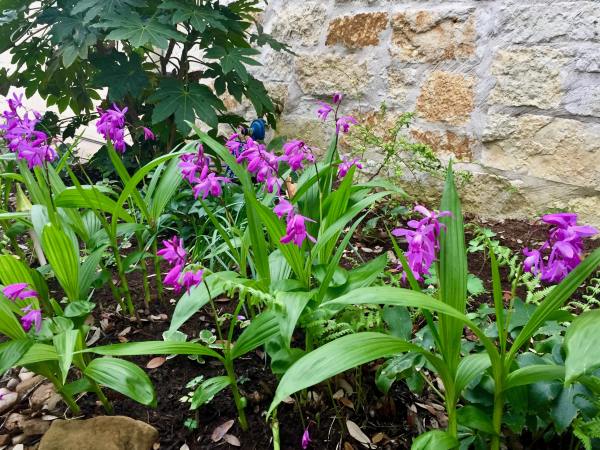 April:  When writing about Central Texas gardening, lush is a rarely used adjective.  But, it was the perfect description for our beds after a unseasonably warm spring and much-needed rains.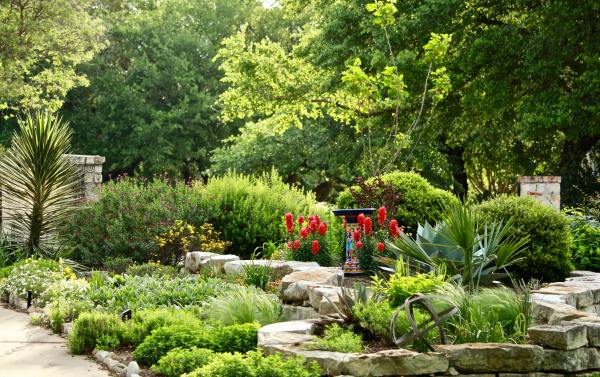 May:  This month marked the return of the Rio Grande Leopard frogs to the garden.  We often find them resting in plants in the morning, showering in our accessible fountains during heat of the day, and skinny dipping in the pool at night.  Fletcher runs around the pool in the dark, flushing them out from the neighboring plants so they jump into the pool.  He whines and paces around the perimeter, frustrated that he can't get to them.  No worries, they can jump back out of the on their own.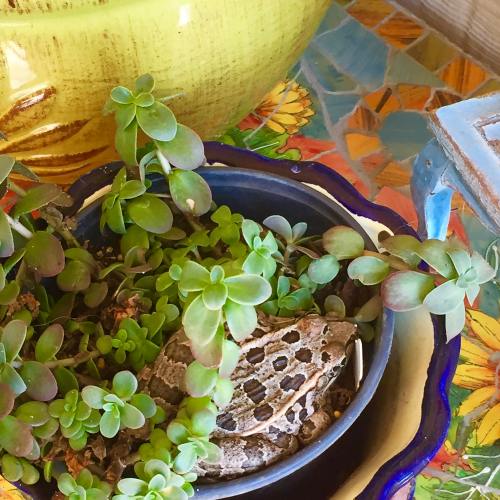 June: With most of the garden filling nicely by the onset of the heat, I often shift my focus to decor, pots and creative elements in the landscape.  This piece of aged cedar inspired me to place a few bromeliads in the shade bed.  They had to come in later in the summer, but they added a nice touch for a while.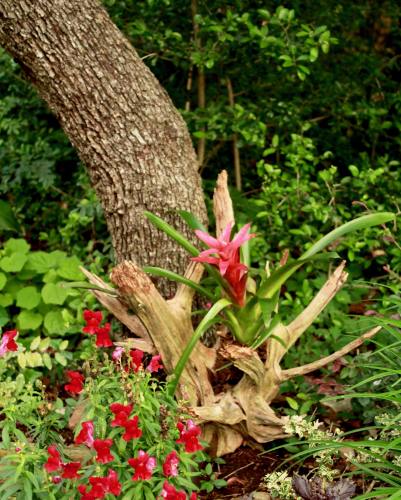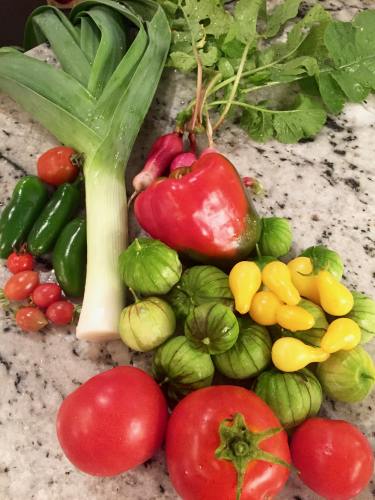 July:  By now, the veggie garden provides us with an ongoing  variety of great fruits and vegetables.  Sadly, it is also the time for stink bugs and leaf-footed bugs to attack the tomatoes.  Almost impossible to eliminate, I get depressed about the impending demise of my tomato crop. They multiply so quickly, it's impossible to control them by hand squishing or spraying them with the hose.
August:  The dog days of summer are also prime time for many of our native and adapted tropicals.  Pride of Barbados, Caesalpinia pulcherrima, is bursting with blooms by now, like electric orange fireworks all over town — and along the sides of our pool.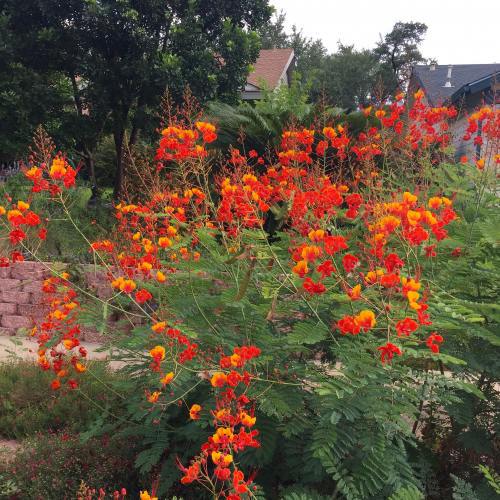 September:  This month marked the beginning of my major landscaping project for 2017.  The removal of the playscape paved the way for a new garden.  Eager to create something different, I settled on a pie-shaped parterre garden.  Using the same Oklahoma flagstone in the existing garden path, I had my crew create a rough-edged set of symmetrical beds.  To save money and recycle, I kept some of the pea gravel from the playscape area to build the pathway.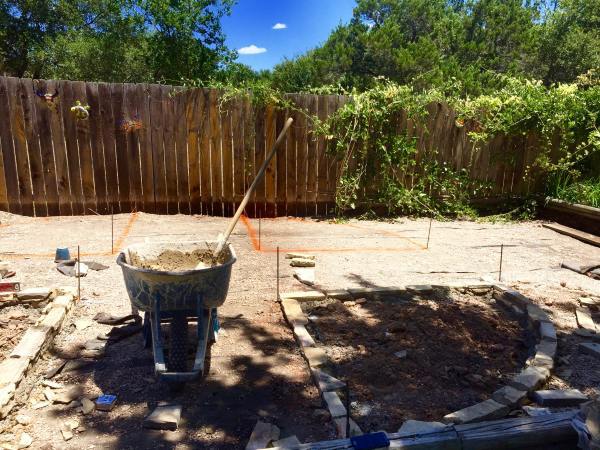 October:  More progress on the parterre.  We revised the existing left path to the vegetable garden, taking out the decomposed granite, flagstone steps and river rock.  This path was a continual source of frustration and weeds.  In spring, it brought forth a profusion of bluebonnets and winecup that were stunning.  But the remaining 10 months of back-breaking proved too much.  We then created a mortared flagstone path, leaving a few periodical spaces for plants — a guarantee that they wouldn't be able to spread.  I added another path to reach the new parterre.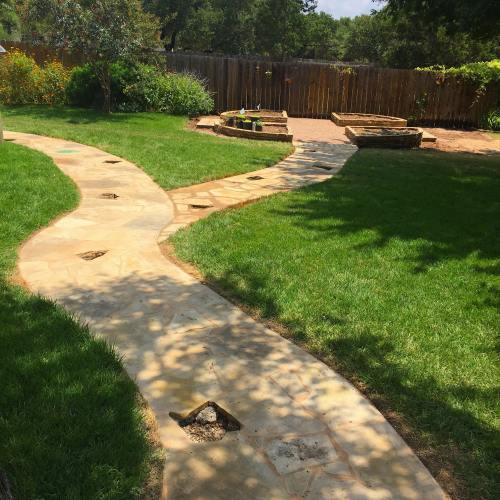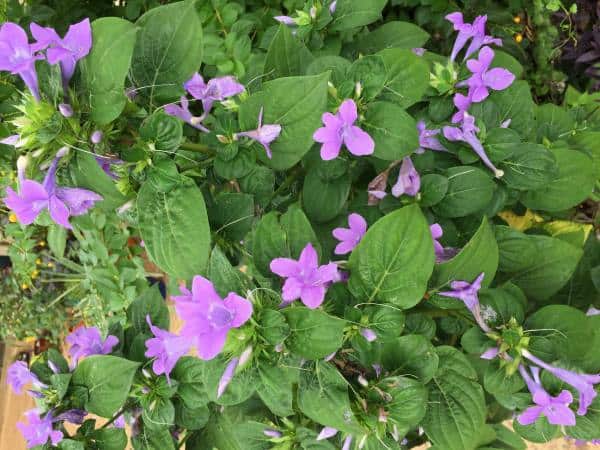 November:  Fall also brought forth blooms from the newly planted Phillipine Violet, Barleria polytricha.  My first experience growing this plant, it was awelcome addition to the tropical garden.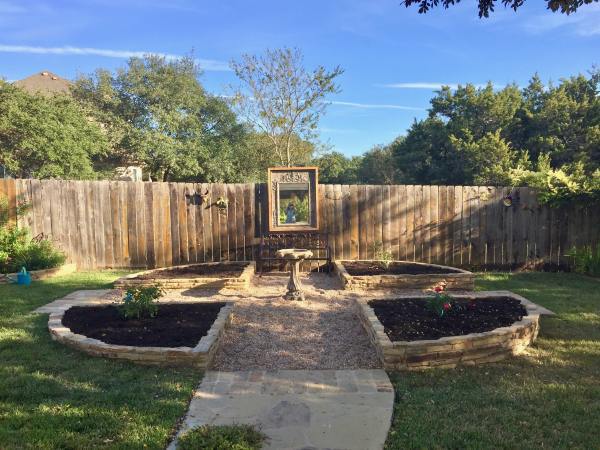 Finally, we finished the parterre and paths.  Well, almost.  I still need to add one more rose bush and all the accompanying border plants in the beds.  I filled the planting holes in the pathways with purslane. You can be sure I will post after pictures in the spring when the beds are full and blooming. To complete the focal points, I added a center birdbath, a wooden framed mirror on the back fence to provide interest and give the space more dimension, and a floral-themed bench to sit on and enjoy the growing garden.  If you look closely, you can see my taking this photo in the mirror. Once those elements were in place, I sat on the bench and marveled that I have never really looked at my garden from that vantage point.  It's a wonderful and reflective place to sit and I'm so pleased to see my vision come to life.
December:  This month shocked all Central Texas gardeners with a surprise snowfall.  Not the dusting and melting immediately variety of snow we occasionally see, but a solid inch of sticking snow.  It turned the garden into a southwestern version of a winter wonderland.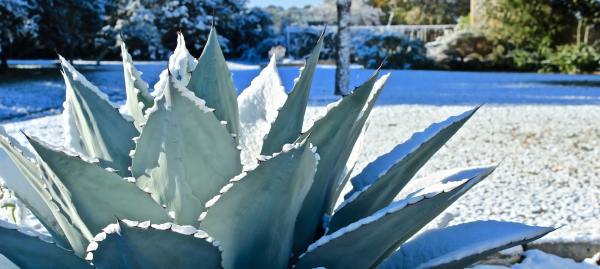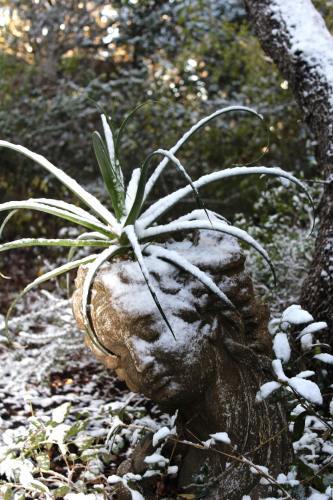 Luckily, the blanket of snow insulated the plants and we were spared the worst possible damage of the unseasonably early freeze.
Winter has officially settled in and January feels like January, just colder than normal.  Seed catalogs sit by my chair as I cozy up to the fire with my hot tea, dreaming of garden plans to come in 2018.
What were your favorite garden additions in 2017?  New plants, new beds, new hardscape — what rocked your garden last year?