Last week, my friend Pam, who blogs at Digging, and I embarked on a garden adventure unrivaled in my garden travels. Nestled in the Brandywine Valley region of Pennsylvania, we toured three public gardens, Winterthur, Longwood and Chanticleer.
I took thousands of pictures (in part because the hot summer sun kept me adjusting my light settings). I'm sure I collected enough photos to blog about for several months!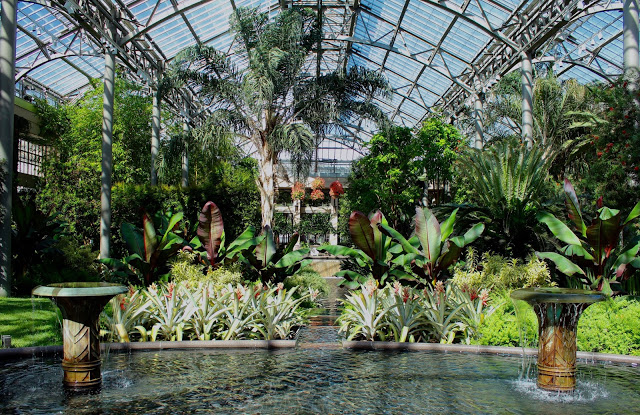 As a lover and collector of tropical and exotic plants, the Longwood Conservatory is high on my list of the gardens within the gardens of our trip. It includes 20 different gardens (yes, all inside this giant conservatory), and more than 5,500 types of plants. It was spectacular. While it included all the typical plants you'd find in most conservatories, there was so much more — an amazing array of plant combinations, beautiful design, and attention to detail at every step. I can't even fit all of it into one post, but I've decided to just jump in and cover part of it as my first post of the trip.
The Conservatory was built in 1919 by Pierre S. du Pont, and was designed to be an indoor eden. The collection of conservatory buildings covers 4.5 acres. (The entire garden covers 1,077 acres.) Yes, 4.5 INSIDE acres of stunning gardens, including the Fern Floor and Alcoves, seen here, the Patio of Oranges, Waterlily Display, Silver Garden, Orchid House, Mediterranean Garden, Bonsai Display, Palm Garden, Desert House, Cascade Garden, Banana House, Camellia House, Green Wall, Indoor Children's Garden (so amazing that this will get its own post soon!), Rose House, Tropical Terrace, East Fruit House, Garden Path, Peirce-du Pont House and the Exhibition Hall.
The grand entrance, pictured above, provides a preview of this massive sest of structures. Beautiful and unusual bromeliads are given a place of honor in this section of the garden.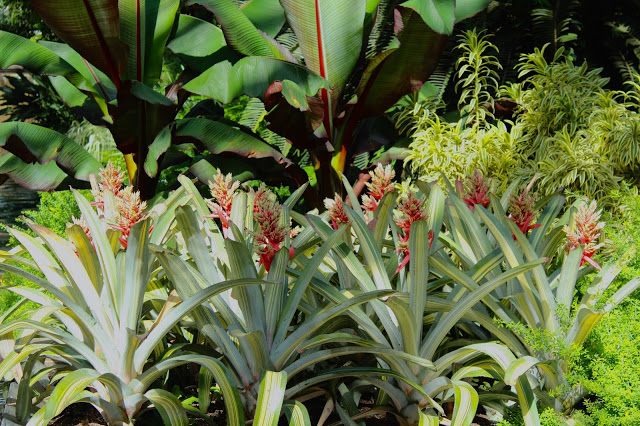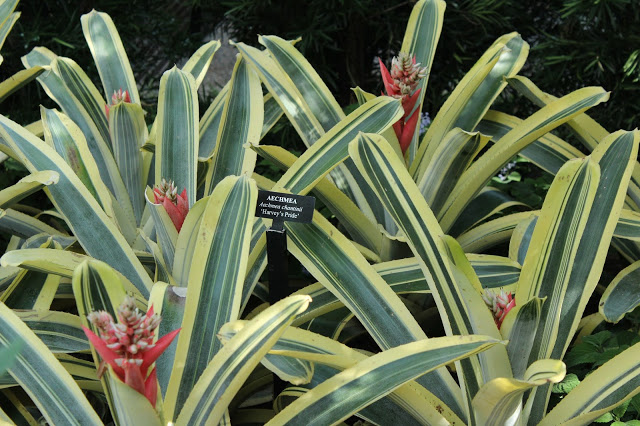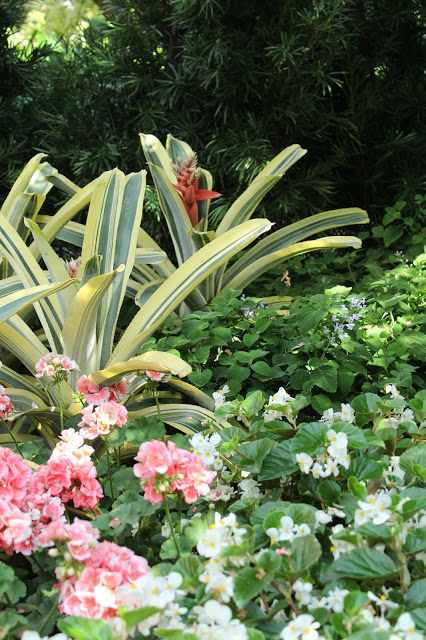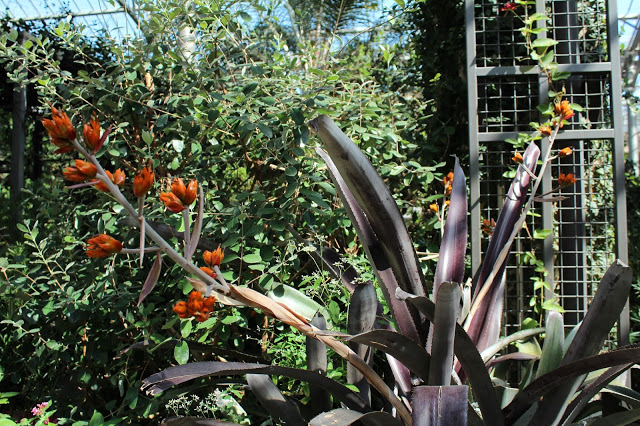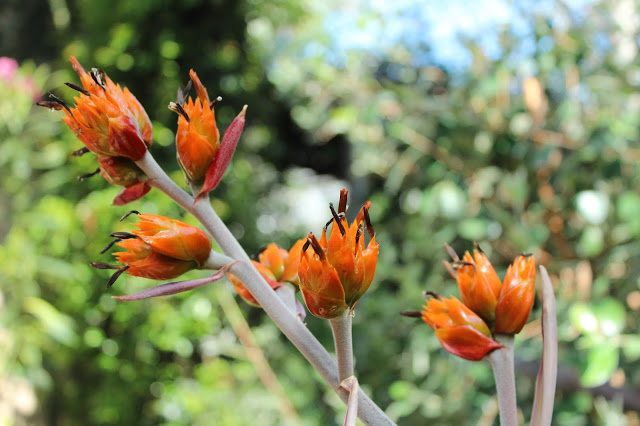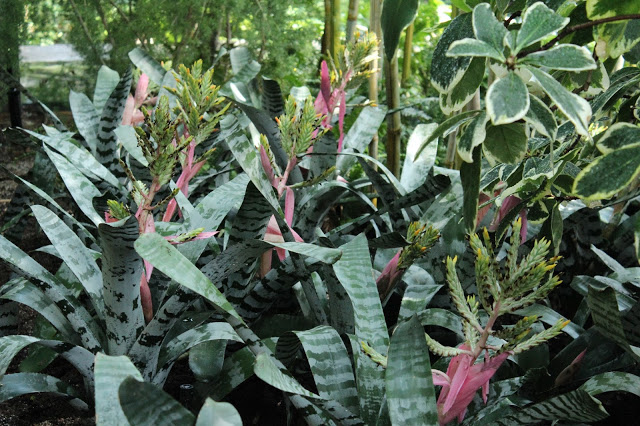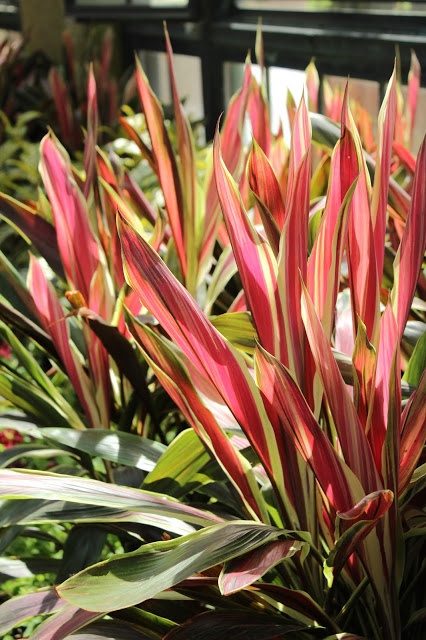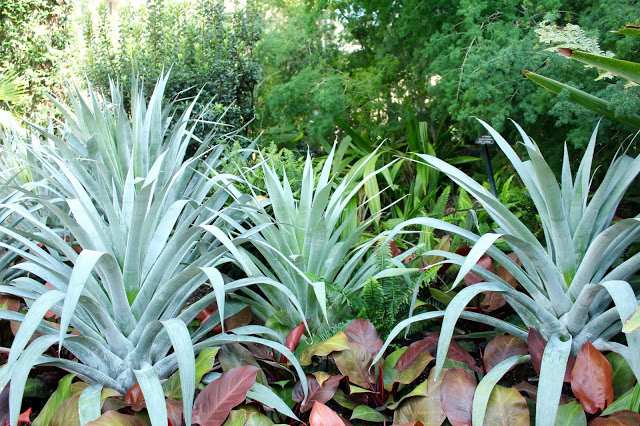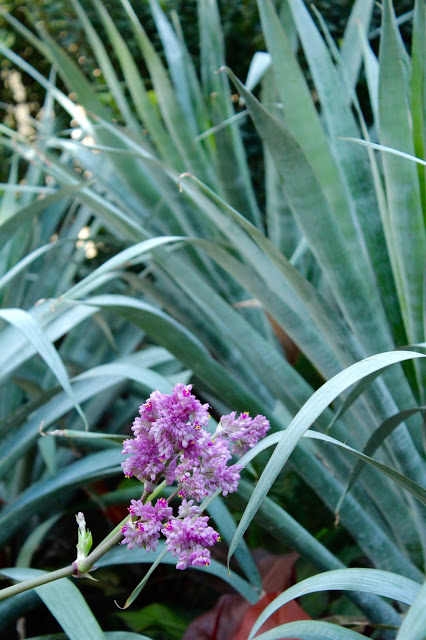 Many of the water features were surrounded by bromeliads, as well.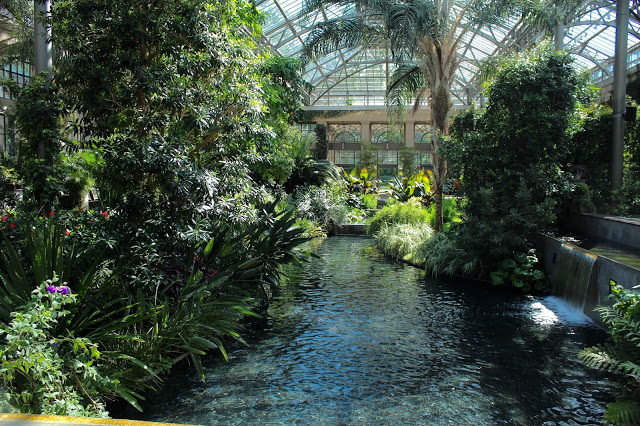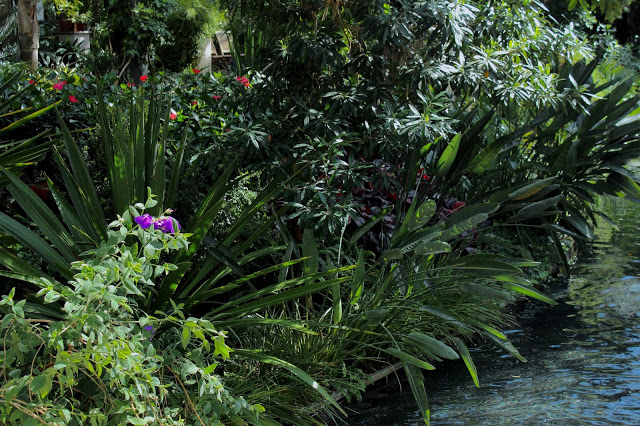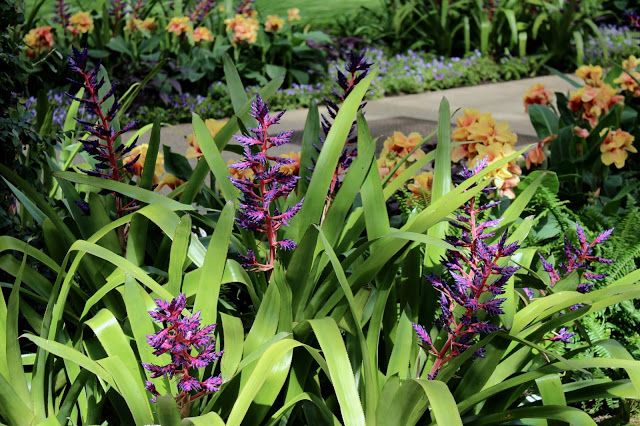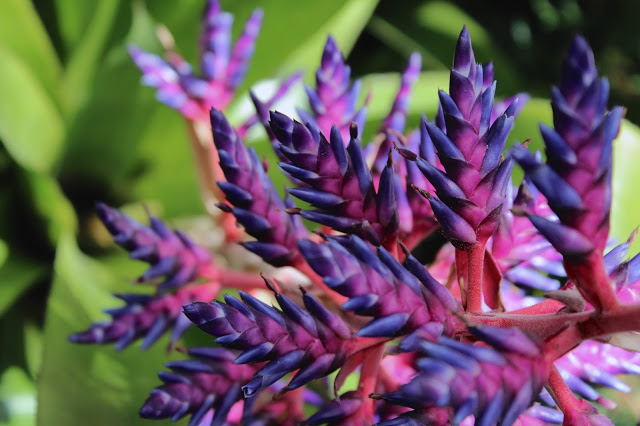 I have a number of bromeliads in my house and in the cabana in pots, but the volume and diversity of these was astounding. Clearly I have a way to go in the collecting department!
And then there were the ferns. I was taken by the Mexican Tree Ferns, delicate and ephemeral, yet strong and sculptural, all at the same time.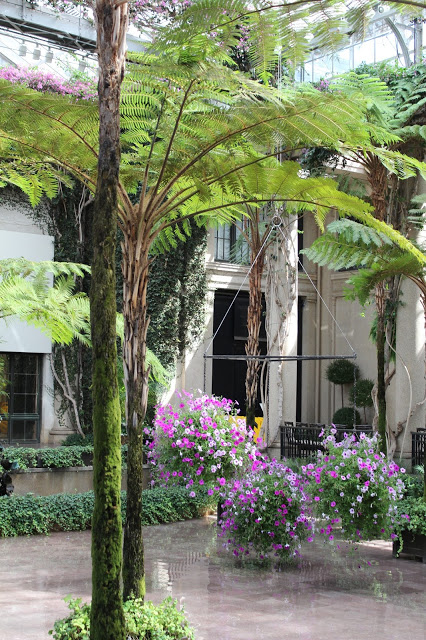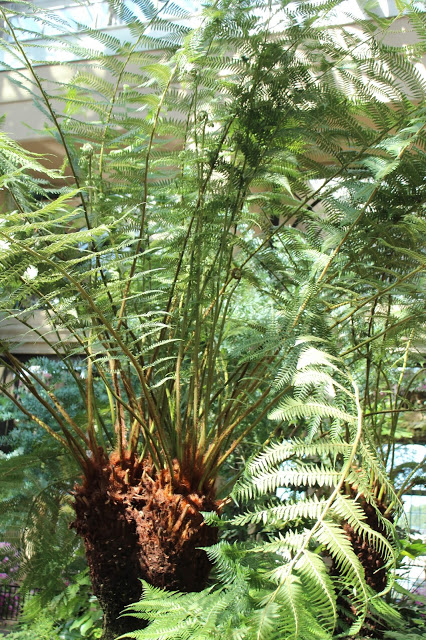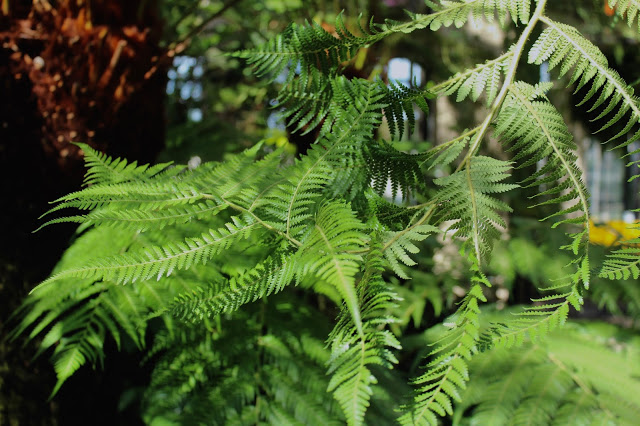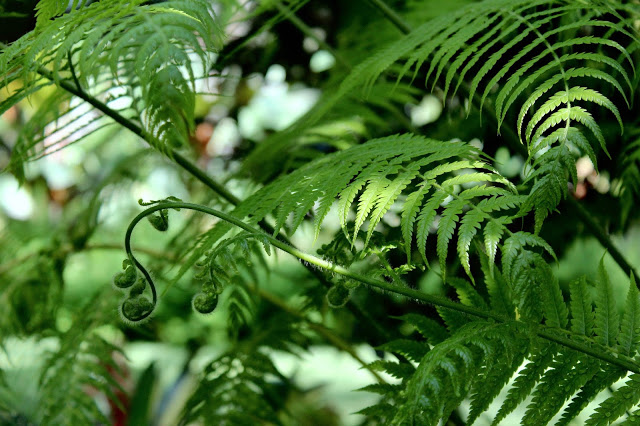 And then there were these stunning Staghorn-like ferns.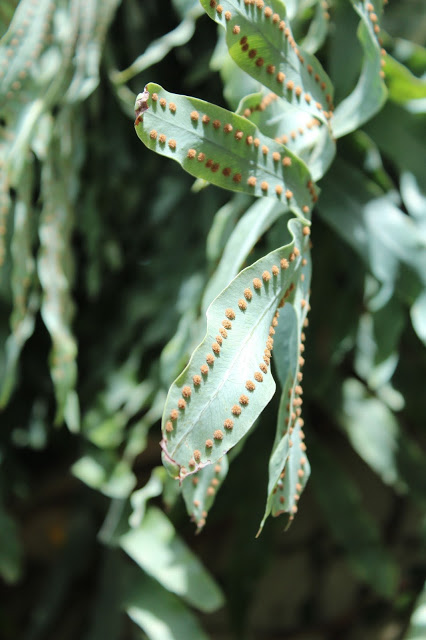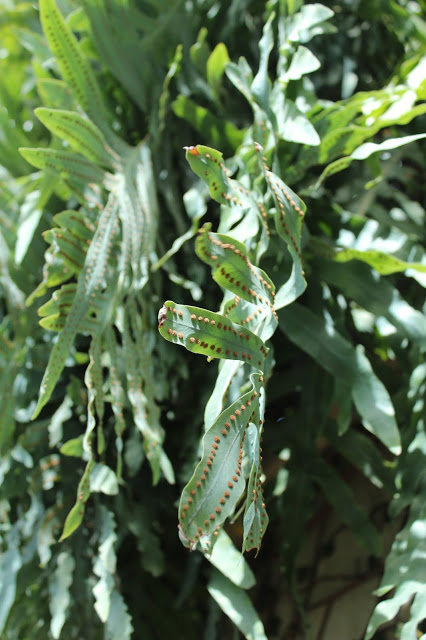 Of course, no prehistoric journey would be the same without cycads.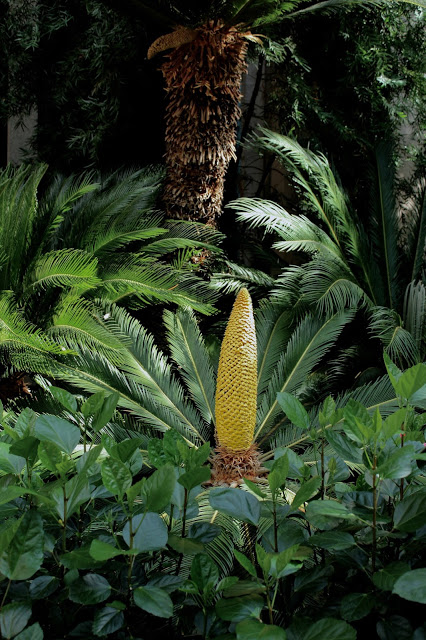 This male cycad was sporting a new cone.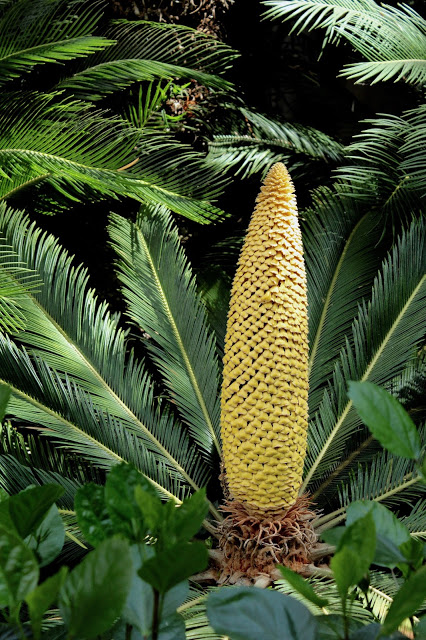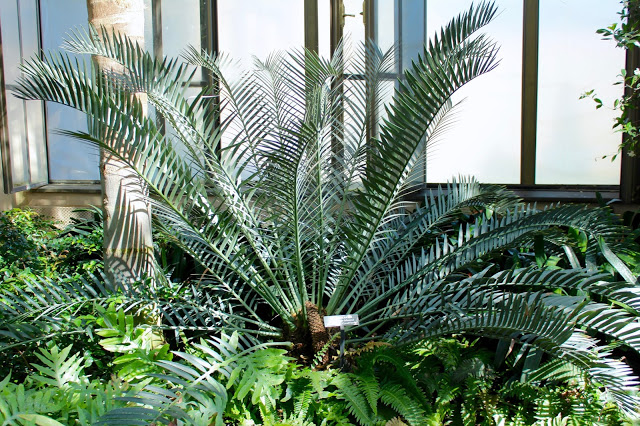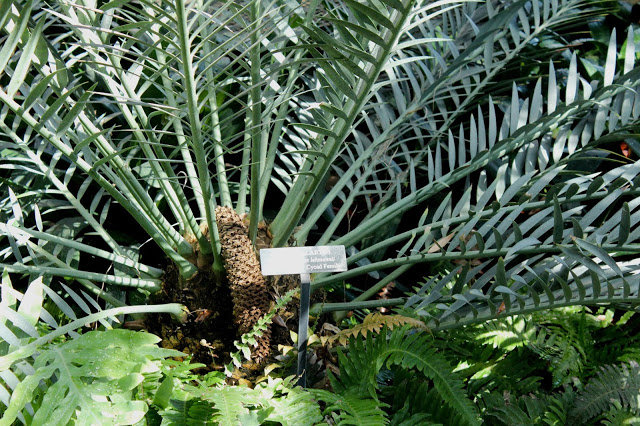 I love this grey species. It's a shame that the light prevents me from reading the tag that I photographed — I'd like to find out if I can grow this one in my Zone 8b-sometimes 9 garden.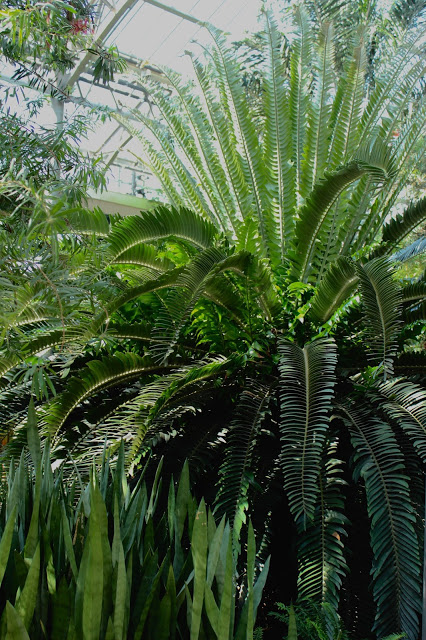 This gigantic Sago palm (though not a palm at all) dwarfs the sizeable Sansevieria below it.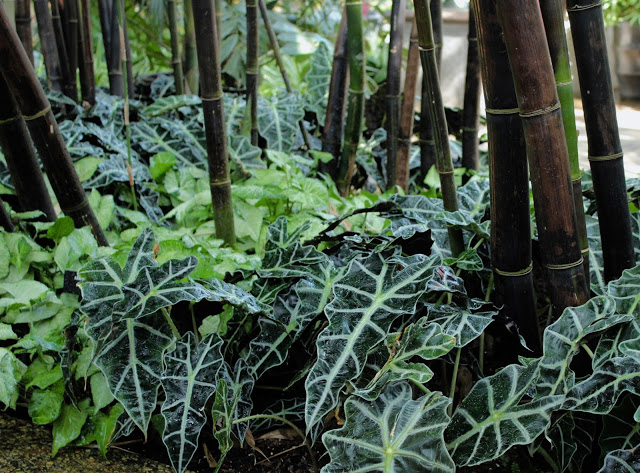 I believe that these elephant ears are Colocasia amazonica – which means they are sure living up to their name here under the black bamboo.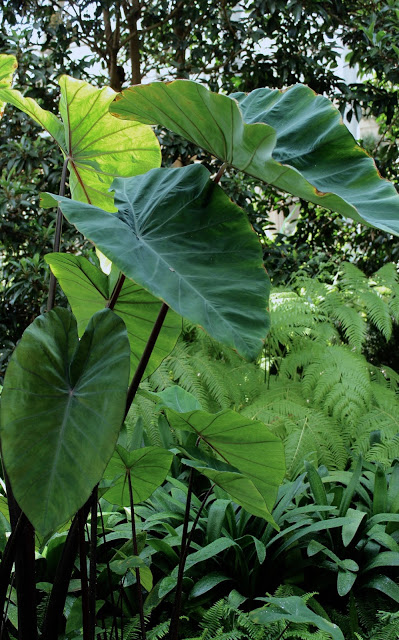 I can't name this one, but I love the black stems which mirror the black bamboo as well.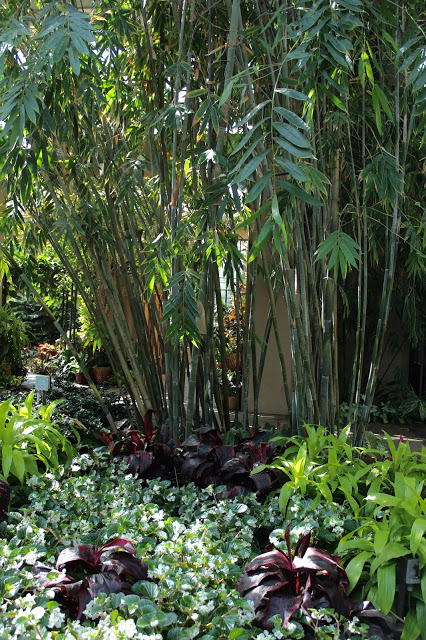 Great color combinations under this bamboo.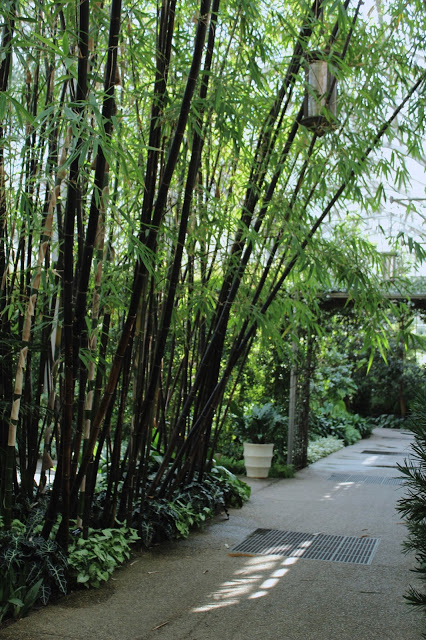 And, who can resist the appeal of this black bamboo? It's so striking and exotic.
With 4.5 acres of conservatory gardens to cover, this will have to be it for your first peek. Thousands more photos and lots of blog posts to come, about the conservatory and Longwood's other 1,000+ acres of outside gardens!