Passalong. One of my favorite words. This simple word represents the cornerstone of gardening. Just as heirloom vegetable seeds, carefully preserved and handed down from generation to generation, passalong plants represent the intricately woven past of our gardens.
I'm fortunate to be part of a group of more than 50 other gardeners in the Austin area that write garden blogs. While not everyone in the group is active, a core group of gardeners meets once a month at someone's garden to oooh and ahhh, commiserate, eat, drink, teach, and share in the joy of gardening. Oh, and we pass along plants.
The plant swap gives us the opportunity to trial new things in our gardens and to share extras with those who are building or rebuilding in their landscapes. I feel blessed to have been the recipient of so many wonderful gifts.
And, yes, sometimes plants even make it full circle.
For a while, I was sharing off shoots of my 'grandfather's pipe' plant (not as in MY grandfather, but the grandfather's pipe plant that I was growing – confusing right?) After I had handed out pieces for a few years, others began to bring them to the swap to share theirs, because the plant is so prolific and easy to grow. "Wait a minute," I said, "you can't ditch your extras of my plant here – that's mine to push on everyone."
Sharing is a wonderful thing. So, today I will be digging some more in my garden – planting little plants that I bought to put in pots — yes, more plants and more pots. My latest collection is gathered in the wooden box on the little table in the photo above.
And, on the ground below it are all of the plants that I am passing along. Today, I will continue digging up some pups and reseeded plants to share with a friend who needs to fill in her garden and to share with some of my clients who are avid newbie gardeners and are eager to try new things.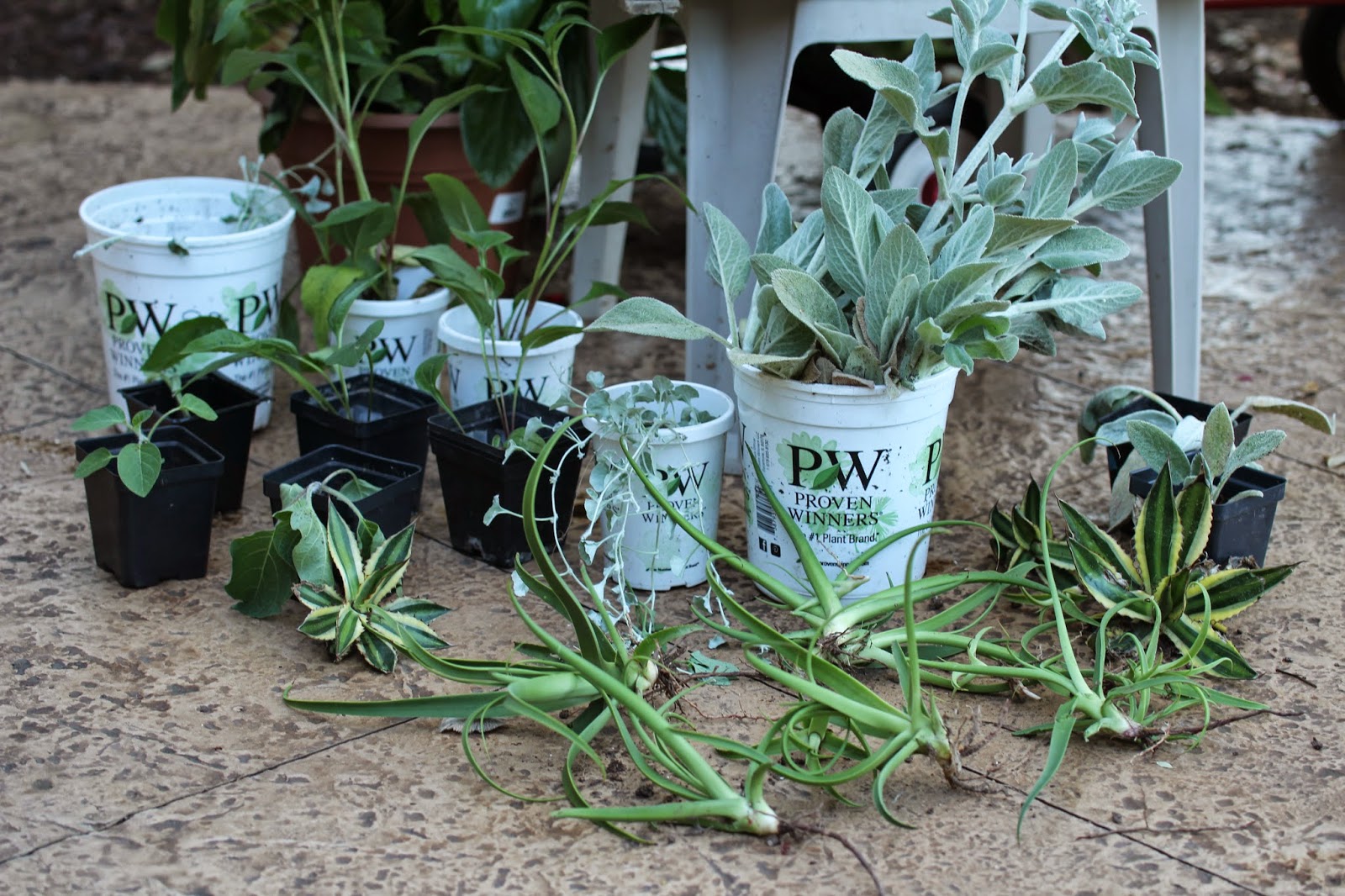 Plants that will be finding new homes this week include: squid agaves, quadricolor agaves, lamb's ears, datura, echinacea (coneflower), catmint, silver ponyfoot, pale pavonia, Mexican feather grass, and Nuevo Leon salvia.
In my own garden, I know that I have enjoyed the beauty of so many passalongs. To name but a few, Green goblet agave from Pam of Digging, white cemetery iris from The Transplantable Rose, a lovely peach iris from Robin of Getting Grounded, agave pups from so many of my blogging friends, larkspur seeds from Zanthan Gardens and Caroline of The Shovel Ready Garden, Klondike cosmos seeds from my neighbor Holly, a collection of seeds brought to me by my friend, Maria, from Monet's garden at Giverny, and countless other plants from other gardeners.
These Klondike cosmos are a riot of hot summer color, but watch out, they reseed like crazy!
I love the blue hues of larkspur in the late spring garden.
The green goblet agave has a unique color, and I love how the dark emerald green leaves contrast with other grey-green plants in the dry garden, like this euphorbia rigida.
Strolling around the garden infuses me with a sense of peace and serenity, and it reminds me of my good friends, enjoying the some of the same plants in their gardens. My garden blog turns 8 this July — it hardly seems possible. I'm so thankful to have it and all the friends, both near and far, that it has brought into my life.