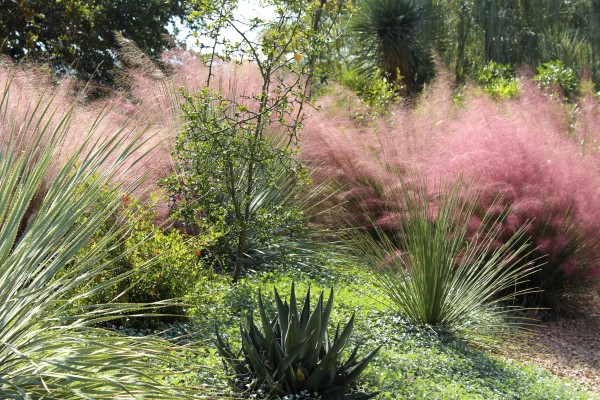 The harsh winter has left many local gardeners with holes to fill in their landscapes. But instead of simply filling those holes with the same plants that didn't make it through the cold, consider this as an opportunity to rethink your garden design.
On these beautiful, breezy days our local nurseries beckon with rows and rows of perfect plants waiting for a new home. So what should you plant?  After thinking about size, light and water needs, the next consideration, for most gardeners, is color. It is, after all, the most conspicuous element in the garden and it is the focus of most homeowners.
But I often find even colorful gardens in need of depth and dimension. Too many similar plants deprive the garden of relativity. The placement of contrasting plants is what allows each individual plant to stand out against the backdrop of its neighbors.
To achieve harmony and add interest to your garden this summer, consider the role of texture in your landscape. Texture is how coarse or fine the surface of plant or hardscape material feels and looks.
A broad range of plant textures will affect the overall balance in your garden, giving it context.  Mixing textures is important so you can tell where one plant or area begins and another ends. One of my favorite plant pairings is a large, structural agave next to soft, billowy feather grasses that move with the wind.
Texture also makes a garden more inviting. I never pass by lamb's ear in a garden without reaching out to touch its soft, velvety leaves, and the gentle rustle of grassed and seed heads is music in the garden.
Some examples of plants with varying textures include:
Coarse:  Plants with large irregular leaves, thick veins, and rough bark.  In this category you would find plants like philodendron, agave, leather leaf mahonia, sea holly, acanthus, croton and canna.
Medium: These plants have mid-size leaves, a smooth shape, and generally include simple lines such as agapanthus, viburnum, ruellia, monarda, Turk's cap and Jerusalem sage.
Fine: Defined by small or thin, strappy leaves, fine-textured plants include plants like grasses or things with a wispy, vining form such as Japanese Maple, society garlic, ferns, artemesia, guara, yarrow or damianita.
Texture isn't limited to leaves of the plants in your garden. When the cold winter has sapped much of the color from your garden, the trees that form the framework for your landscape can also add wonderful texture to the garden. Exfoliating bark becomes a focal point against dried grasses and bare limbs. The sculptural style of crape myrtles, burr oaks or lace bark elms all adds interest to the garden.
Just as with color, the placement of texture in your landscape can create the illusion of depth and space. Placed in the foreground, large, bold foliage followed by smaller fine plants can elongate and extend the image of space in your garden. With smaller plants and textures up close and a perimeter with large plants can make a larger garden seem smaller and more inviting.
But your design planning doesn't stop there. Hardscape has texture, too. All of the elements in your garden play into the vision of the garden as a whole.
Hardscape materials can be used to match the texture and style of your plants, or it can serve to provide some contrast and dimension for balance.
Examples of different hardscaping that add to the look and feel of our garden include:
Coarse: To add a strong element to the garden, use rough-cut, irregular or natural stone, rough-hewn cedar, large boulders, or any type of unfinished surface or fencing, allowed to weather.
Medium: Materials that can work either way in the landscape might include flagstone, polished wood or brushed concrete
Fine: To create a finer look, use small, smooth stones like pea gravel or river rock, or small-slatted wooden fencing or furniture or delicate metal trellises or arbors.
So walk through your garden this season with a more critical design eye and identify the textures in your garden. Think about how you can enhance your landscape with the addition of some carefully placed textural plants or hardscape that will add dimension. And on your next visit to your local nursery, don't be afraid to touch and feel your way through the plants.
Local Landscape Designer and Garden Coach Diana Kirby provides landscaping tips at http:/www.dianasdesignsaustin.com and writes a garden blog at https://www.dianasdesignsaustin.com