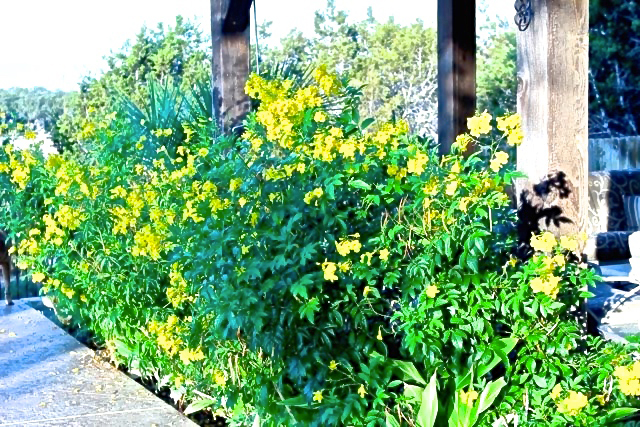 In spite of our schizophrenic weather extremes, many native and adapted plants perform beautifully in Central Texas gardens. One of my favorite showstoppers is Esperanza, Spanish for 'hope,' also known as yellow bells. It comes back reliably year after year — a dramatic garden showstopper that doesn't mind the abuse our gardens suffer with periodic drought, heat and floods.
Native to Mexico, the tropics and West Texas, the variety Tecoma stans 'Gold Star' thrives in our 100+ degrees and produces masses of large 2 – 3 inch blooms that look like yellow bells. This medium-sized shrub is xeric, low maintenance, and relatively pest free. This is the variety you see most around Central Texas.
They are generally cold hardy to zone 8b or 9; for most of Central Texas, they are perennial and reliably return from the roots. They thrive in hot sun and can tolerate a variety of soils, particularly our alkaline limestone. They typically begin blooming in the spring and bloom non-stop until late fall. Depending on how much sun they get, here they can grow as high as 6-8 feet tall and 4 feet wide. Although they go dormant in the winter, they shoot up quickly when the weather warms and consistently reach that height for me, in spite of being cut back completely at winter's end. And, they are of no interest to the deer that like to browse my landscape beds.
Very popular with pollinators, bees and hummingbird are drawn to their nectar. I love watching them disappear into the deep throats of the bright yellow blooms to get a drink.
In the last few years, growers have developed a number of new Tecoma hybrids that give gardeners more choices in color and growth habit.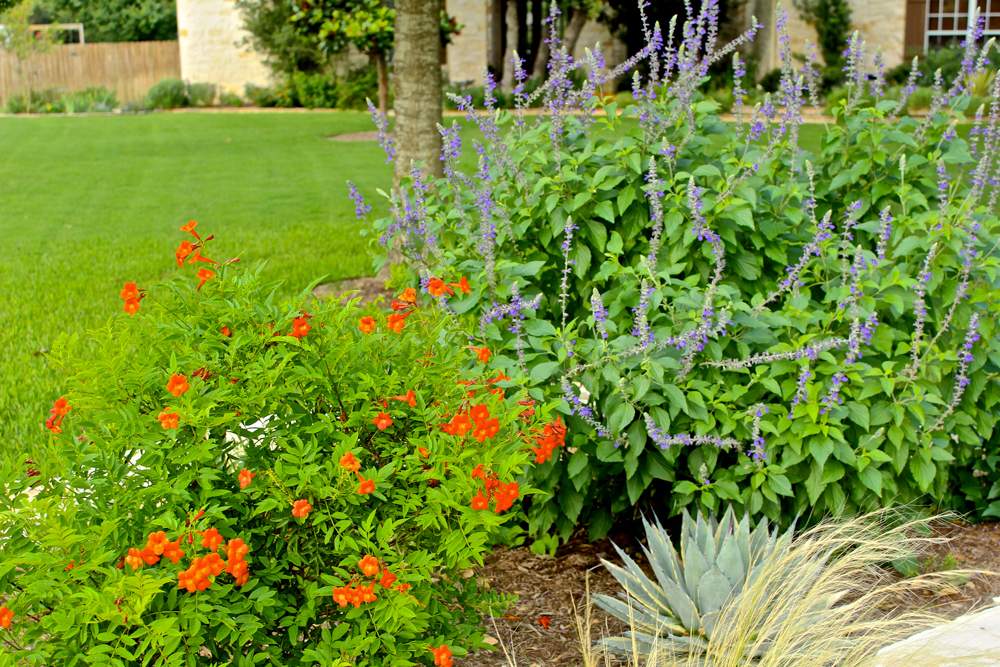 Last year, I tried one of the newer varieties of Esperanza, 'Bells of Fire.' With high expectations, I found the perfect spot for this reddish-orange blooming sun lover. Like its yellow cousin, the new 'Bells of Fire' didn't let me down. It didn't bloom as early in the year as the yellow bells, but came into its own in early summer. Unlike 'Gold Star,' its blooms are slightly smaller; it is shorter, and more compact, reaching only 3-5 feet tall and wide so it can serve a different role in the landscape.
Also available at nurseries around Austin is the variety, 'Orange Jubilee' which is a lighter shade of orange, more like a creamcicle.
According to Michael Cain, owner of Vivero Growers Nursery, this orange variety is more like the 'Gold Star' in its growth habit.
"'Orange Jubilee' is more upright and sends up shoots up to 7 feet tall, " said Cain. "It blooms a little later than the 'Gold Star' and does very well here – it's really tough."
Another variety new to the market is 'Lydia,' which has a more compact form and brighter yellow flowers. It grows to 5-6 feet tall and wide and blooms from early spring through fall. It's a sterile variety, so it has fewer seedpods than the 'New Gold.'
If you were thinking of including more heat and drought-tolerant plants to your garden this fall, any one of these Tecoma bells would be a great addition.
Local Landscape Designer and Garden Coach, Diana Kirby, provides landscaping tips on Facebook at Diana's Designs, at www.dianasdesignsaustin.com and writes a garden blog at www.dianasdesignsaustin.com.