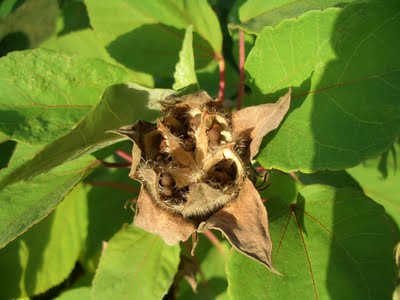 Sensory gardening is designed to stimulate all of our senses and enable us to not only see, in the garden, but also to touch, smell, hear and taste our natural surroundings.
Beauty isn't just in the eye of the beholder; it can surround us in the garden, titillating our other four senses as well.
Close your eyes, and consider all the elements you can take in throughout your landscape.
Scent
Roses might be the first plant that comes to mind when you think of creating a garden space that focuses on scents.  Old-fashioned roses have infused gardens with their heady aromas for generations.  Many other plants can also perfume your garden – to envelop you while sitting with a book in a garden room, or to waft up as you pass down a garden path.  I love it when my dogs have been romping around in the rosemary – it's so much more pleasant than when they just smell like dog.
If you like to entertain in the evenings, datura, a night-blooming plant also commonly known as angel's trumpet, releases a sweet scent at dusk as it begins to open its flowers.  Also fragrant at night are nicotiana, or tobacco plant and moonflower.
Many other trees, shrubs, perennials and annuals like those listed below can bring beautiful scents into your landscape.
Mock orange
Sweet almond verbena
Lavender
Artemesia
Santolina
Texas mountain laurel
Clematis, honeysuckle, wisteria & star jasmine vines
Sweetpea
Chocolate cosmos
Sweet Alyssum
Herbs, Lemon and mint varieties in particular
Rosemary
Small fragrant herbs like creeping thyme or chamomile can serve as groundcovers along paths or between pavers or flagstones.  Strolling along the stones will release the plant scents as you go.
And don't forget to consider scent when planting in pots around the patio and your other outdoor living and entertaining areas.  Plants like small like citrus trees and tropical plumeria are excellent aromatic choices to frame your rooms.
Sound
We don't normally think of plants as noisemakers, but they can grace our gardens with movement and sound and help enhance our mood.
Ornamental grasses, bamboos and weeping trees billowing in the breeze can make a lovely rustling sound, particularly when they are going dormant.
Many plants like those below produce seed pods that will rattle with the wind as they are drying and preparing to open and release their seeds.
Moy Grande hibiscus
Blackberry lilies
Love in a Mist
Rattlebox
Blue Wild Indigo
Inland sea oats
Other elements of sound in the garden also include natural elements other than plants like birds, bees, squirrels and moving water.
Touch
When I wander through gardens, I often find myself with my hands loose at my sides, reaching down to run my fingers along the delicate fronds of wispy plants, feeling the textures of coarse or waxy leaves and caressing the soft, velvety petals of flowers like roses or hibiscus.  Turning purple in my garden right now, the shiny clustered seeds of the American beautyberry just call to me to touch their smooth surface.
Plants with scintillating textures for incorporating into your garden include:
Lamb's ear
Wooly thyme
Pussy willow
Little Gem Magnolia blooms
Amaranth
Scented geranium leaves
Plumes of fountain grasses
Crape Myrtle or Lace Bark Elm bark
Sea holly, erynglum
Succulents
Taste
Tempting your tastebuds in the garden is simple. We know that herbs, fruits and vegetables stimulate your sense of taste in the garden.  Some more unusual plants worth nibbling on also include:
Nasturtium flowers
Chives
Marigold
Peppermint
Wild strawberry
Honeysuckle
Pansies
A well-designed sensory garden can be stimulating or relaxing.  Herbs like mint or rosemary can stimulate your senses while lavender and chamomile are soothing and restful.
When planning your garden, consider bloom times to ensure that the sensory effects continue evolving throughout the seasons.
Placing the plants within reach or smell of sitting or living spaces will ensure that you get to enjoy them regularly and take the prevailing wind direction into consideration. Then sit back, close your eyes and enjoy your garden.