After visiting Kylee of Our Little Acre 's garden in northwest Ohio on Monday, we had a delightful lunch with her mother, Louise, of Two Girls with a Purpose, who many garden bloggers know and remember from so many Garden Bloggers Flings as Kylee's traveling companion.
Louise's garden overflows with beautiful garden art. From family carvings and creations to blown glass and commissioned art, the art is as much a part of the garden as the plants.
A very recent addition, Louise commissioned the creation of the giant metal scroll in the front garden What a statement as you enter the front walkway.
Sadly, in this photo I accidentally cut off the bird's head at the top of this sculpture – but here's a better view of it below. She's now having another bird made to replace the one she added to the rocks below the sculpture.
These gorgeous horizontal planters flank the front door. Welcome!
Bright blue glass globes light up this little bed.
This colorful vertical planter adds Garden Up interest to the brick wall.
A quiet little corner of her side bed evokes a zen-like feeling with this iron pot (originally from China), junipers, conifers and the gentle Buddha.
As we strolled around the beds, this looked like a wonderful place to take a rest.
Oops, can't sit there! How clever.
Water features adorn her garden around every corner – whimsical places for birds to drink and bathe.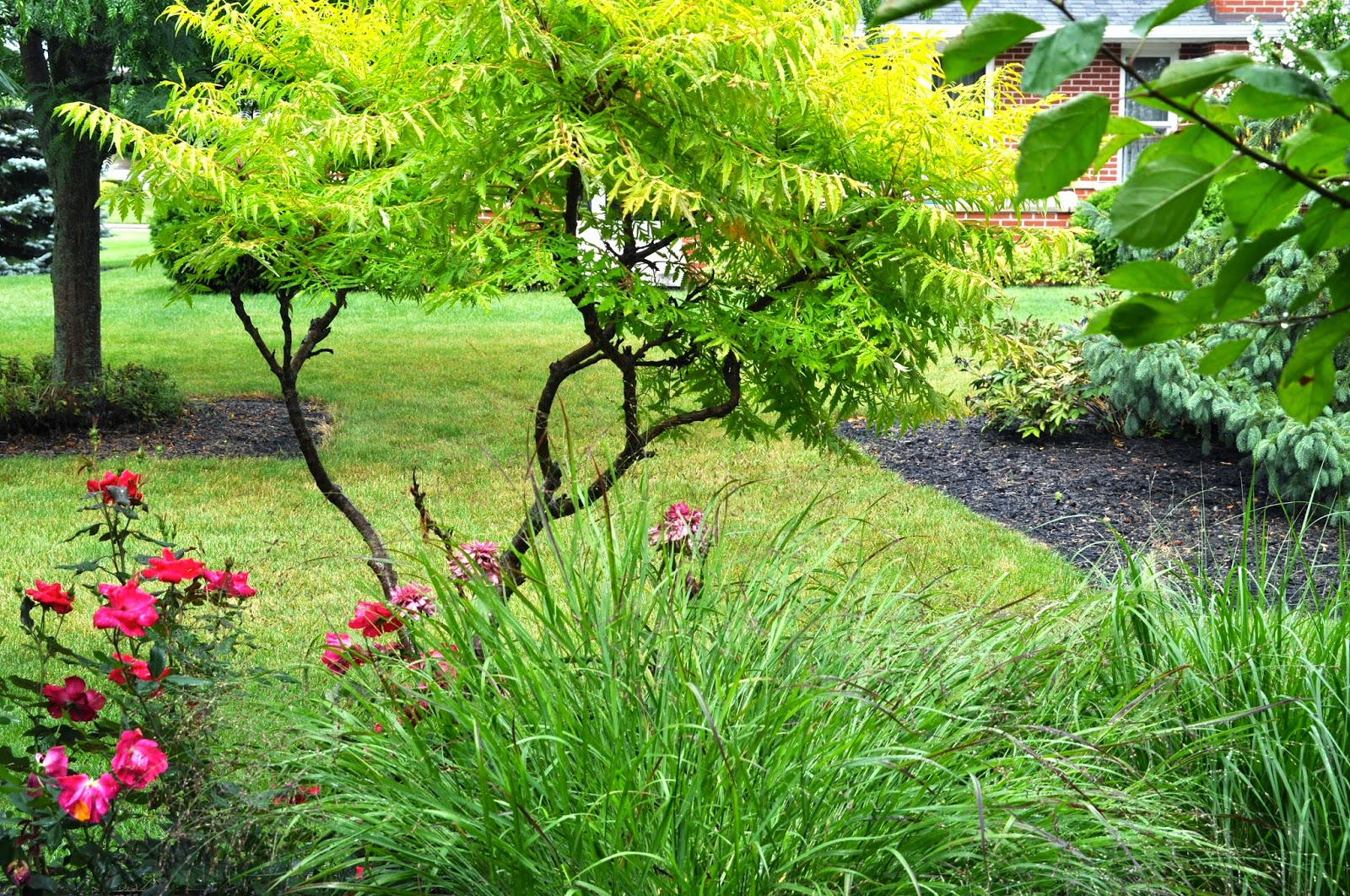 The sculptural pruning of this tree creates a lovely backdrop for the roses and grasses.
After the rains, these drooping pine needles and cones were stunning. I so wish we could grow some of these evergreens in Austin. I have tree envy.
As we wandered further into the garden, Louise said it was really wet and we should take off our shoes. I can't tell you how absolutely delightful it was to walk through the soft, cool grass. Without fear of vicious fire ants, cracked earth, limestone rocks or other unpleasant creatures. It took me back to my childhood and time spent on my Mammaw and Pappaw's farm in Kentucky – running barefoot through the wispy Kentucky blue grass.
Hmmm…the perfect idea for using extra pavers or bricks.
A little protected outside nook houses more art.
How many garden decor items can you count in this sweet vignette?
Frog antics in yet another birdbath.
Oh my, ferns and heuchera and creeping jenny and a mushroom! All familiar things I enjoy in my garden, too.
I recognize that — it's a giant saucer hibiscus — not the same variety as mine, but just as tall.
The blooms were really putting on a show for us.
One of my favorite color combinations. Can you tell which one of these purple blooms is a piece of metal garden art and which is a spent allium?
And around the corner to another little peaceful space with moving art that Louise bought when we were at the fling in Seattle.
This I loved — Kylee and her mom both had one of these trellises – one of Kylee's Lowe's projects.
Birdbath and sculpture all in one.
A brief glimpse through the trees.
This looks like a great place to sit with an iced tea and ponder your next garden project.
Another long view of the bed border with the succulent chair on the very right.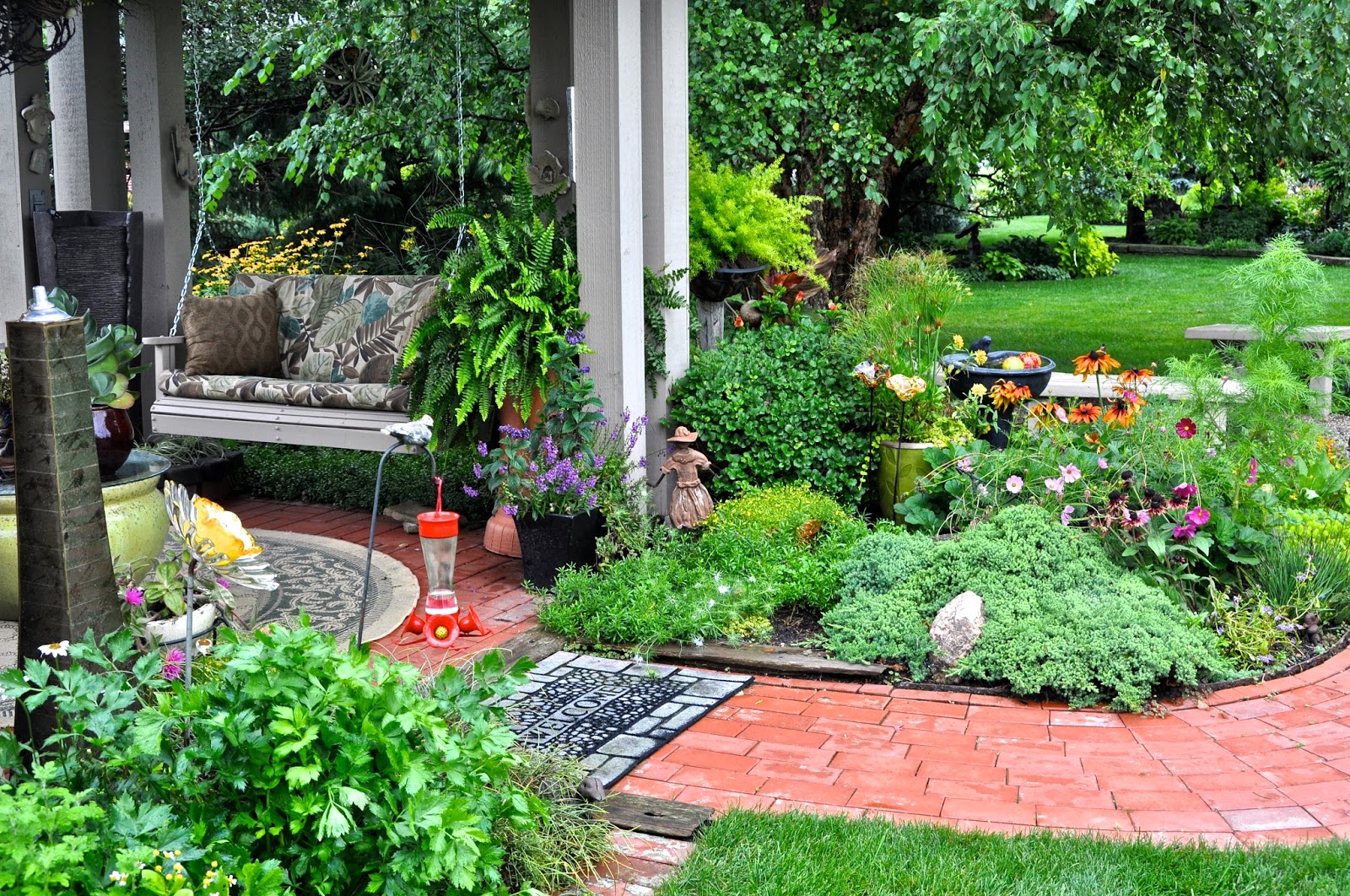 And now for a big garden room for spending the afternoon with friends.
Although, those swings look like they'd be perfect for napping!
These glass balls, created by a local artist, include textured pieces that allow butterflies to land on them.
Precious little details on the posts of the garden room.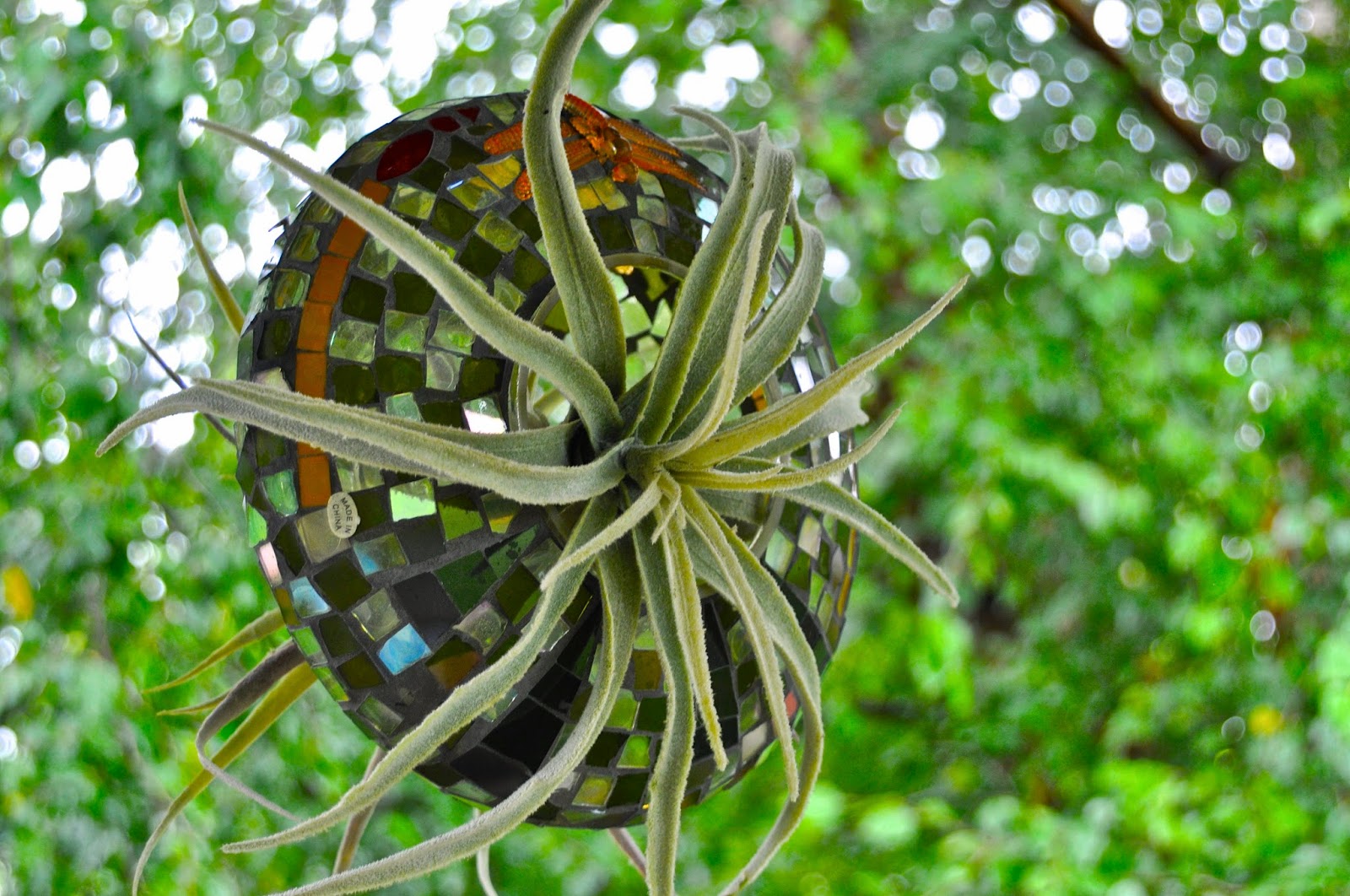 What a cool planter hanging in the garden room – and another interesting vertical focal point.
Love these rudbeckias — I might have to try to find some for my garden.
More places for bird to drink.
This intricately-carved man standing watch over the garden was carved by someone in Louise's family but I can't remember if it was her father or Kylee's father – Louise?
So many lovely vignettes and creative ideas greeted me throughout this garden. Louise's personality and love for art was evident everywhere I turned.
Next, a tour of the amazing Children's Garden and park that Louise helped plan and create in her home town.