The second stop on our recent visit to San Antonio was Heather's garden from Xeric style. Her style is certainly xeric, yet with many soft grasses, draping perennials and ground cover, it has a delicate feel. You can see my post about the first garden here.
Purple fountain grass frames a collection of other grasses and yuccas.
The sun was blazing hot that day, so taking photos was a real challenge. These yuccas were enveloped in a blanket of pretty purple trailing lantana, but it's hard to see that here.
In this his view of the front of the house you can see that her landscape is well matched to her contemporary style house.
The pots scattered around were also full of drought tolerant native and adapted plants like this cactus, grass and silver ponyfoot.
Another special touch greets visitors at the front door. The sleek orange planter echoes the color of the front door.
This beautiful grass and its inflorescence shine against a backdrop of cacti paddles.
Retro/modern chairs next to the orange door and planted on the front porch complete the look as you enter the house.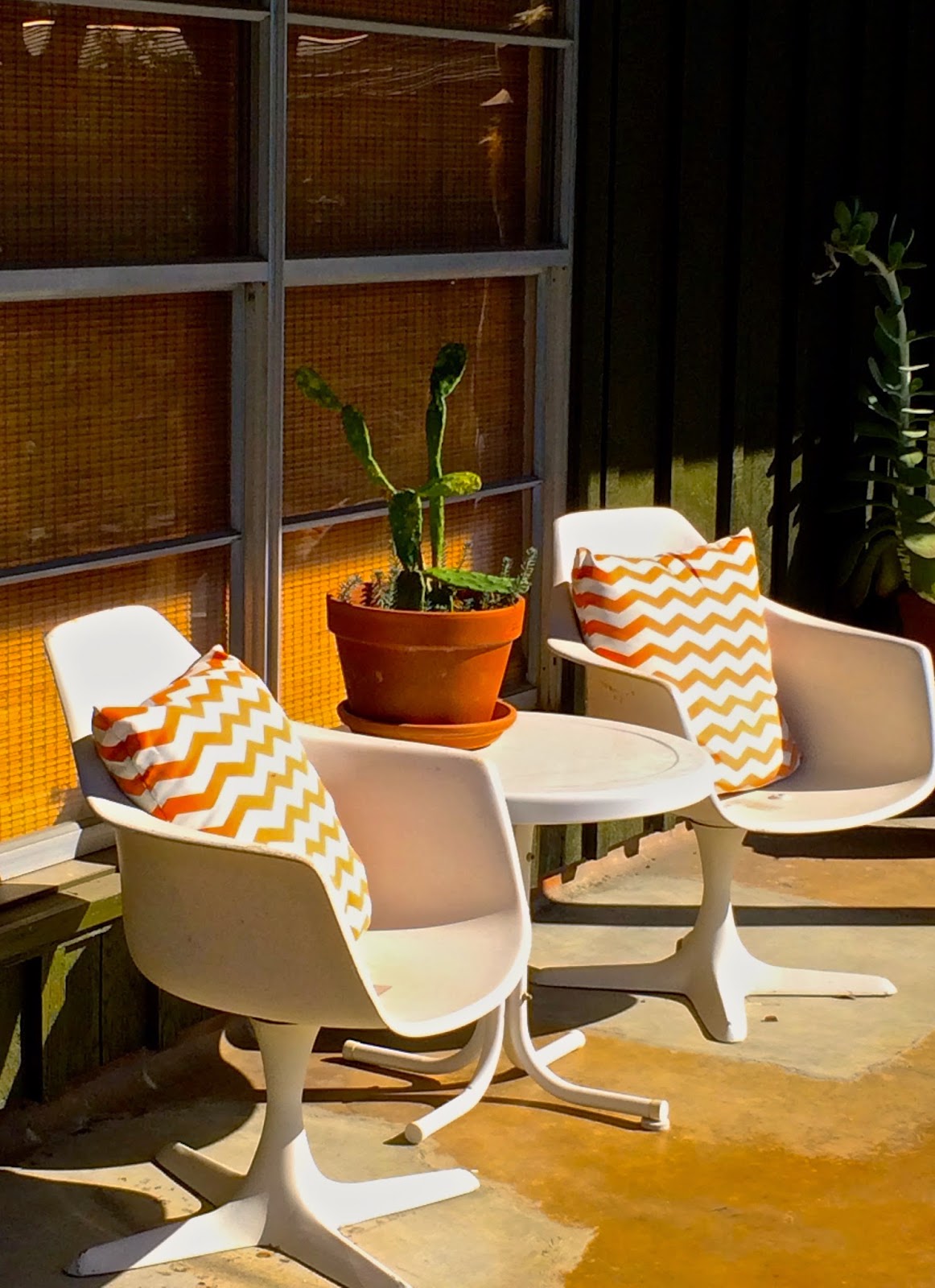 Another beautiful agave, a grey weberi, I think, softened by a fuchsia salvia. Two plants that can really handle the heat.
In the shade of the back yard, we were treated to a show by her chickens, who were intrigued by the visitors to the garden.
Also nestled under the tree – a wonderful hammock for lazing about and pondering garden projects.
I was taken with this bed that included drought tolerant plants like the bulbine, with a lovely cairn painstakingly placed in the middle.
Don't forget the whimsy. This bright seating area was decorated with several plants in unique pots — plastic tub trugs!
I always celebrate Dia de los Muertos since I worked once a week for a year in my company's Mexico city office. I learned to understand and came to love this unique celebration of the lives of lost loved ones. Needless to say, these beautiful ceramic plates caught my eye.
And yet another special touch — cacti planted in a pipe suspended on the fence.
Okay, so you've seen these in gardens, right? These are made from bamboo given to Heather by her neighbor and she spray painted them orange, her theme color. How clever. Now if only I knew someone with extra bamboo!
I was taken with this simple, elegant pot in front of the garage. I don't know which I liked more — the beautiful pot or the cascading firecracker fern.
And here's our friend, Lori, of Gardener of Good and Evil, who has found the perfect spot from which to survey the garden.
Heather professes that she's stingy with water and is always on the lookout for plants and methods that conserve our precious water. Her garden was the perfect example of the beauty of a truly xeric garden.
Thanks, Heather, for sharing your beautiful garden with us!