Overflowing with gorgeous azalea blooms in full splendor, this garden was a stand out on the Garden Conservancy's Houston Open Days tour last weekend.
The entrance to this estate was very subdued and formal. My expectations were set as we walked across the boxwood-lined circular entrance.
I was amused to see another tour visitor peering into the windows of the house. It's something we've all thought about doing at one point or another, but I've never actually seen anyone pressed up against the door, fogging up the glass!
Across the gravel, an iron gate beckons with a hint of the blooms to come.
Wow. What a sight.
And then the safari begins. As we wandered through the paths lining the garden, we happened upon the owners' collection of wild animal statuary.
This sweet little elephant perched atop the pond is adorable.
This little horse is grazing along the stone pathway.
Hungry, hungry hippo – trying to eat the plants!
My traveling buddy, Pam, of Digging, trying to get a closer shot of the garden bear.
These little chimps love romping around in the monkey grass.
And this ape is tucked under the fort, hiding from visitors. I think he's shy.
He's just around the corner from Pam, poor, unsuspecting thing.
And then there's this guy…
Beyond the safari garden and up the hill, these lovely chairs and gazebo look out over the expanse of lawn, the house and the amazing pool.
This enormous fountain takes you aback when you first see it in the garden. But after touring through the animal garden, he seems like an old friend as you emerge from the secret garden path.
I can almost hear the sounds of gleeful children swimming under the fountain stream, imagining themselves on safari near a lake with elephants.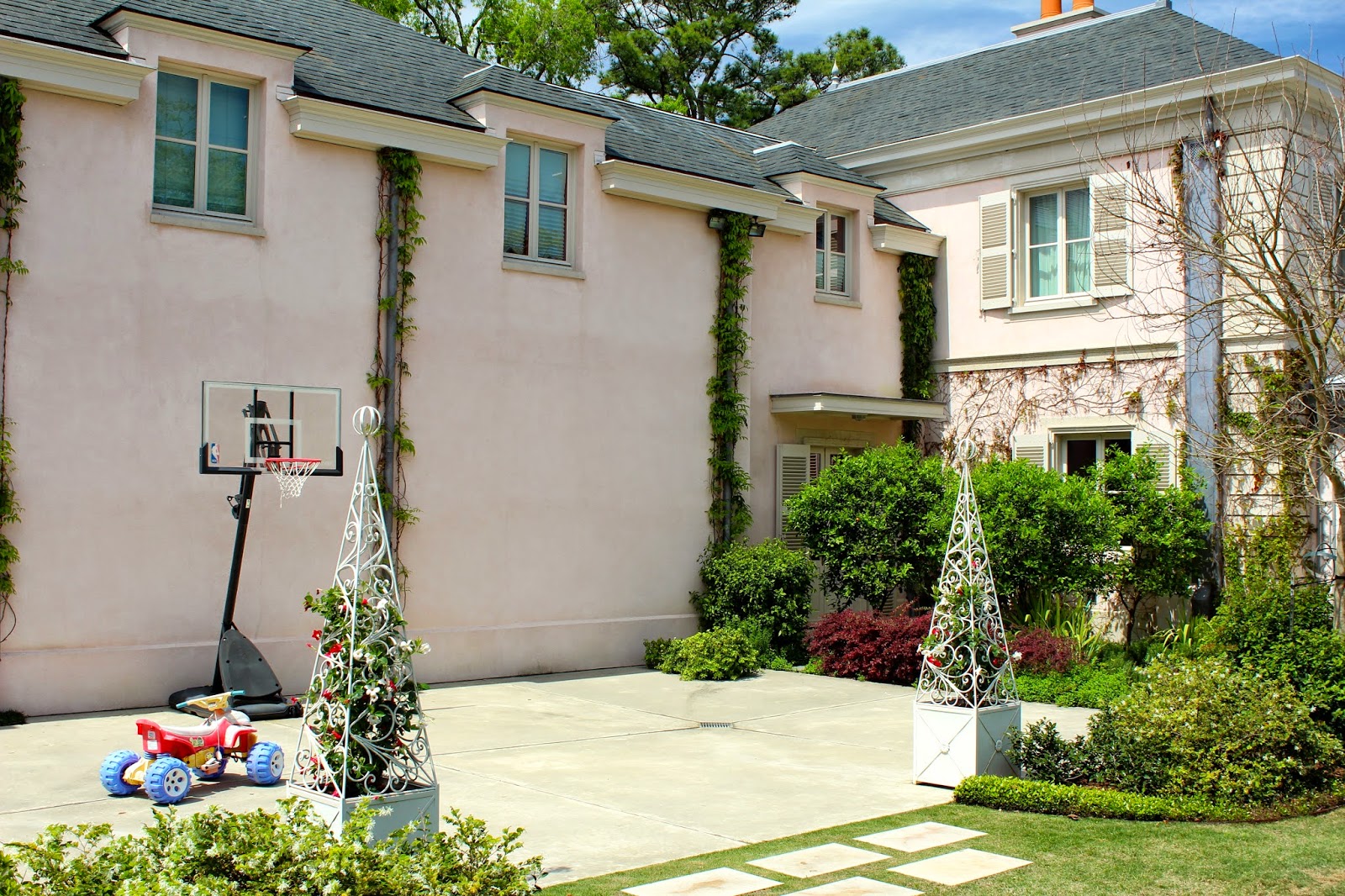 On the other side of the pool, this open space provides an area for the kids to play basketball and drive around.
This lovely little side garden even reveals another surprise.
Another baby elephant.
Dueling cameras.
And then back to the everall aesthetic of the estate – formal and regal – with unusual surprises designed throughout the back. As I was walking through the paths with animal statues, I also noticed the path and up lighting and imagined how fun it must be there for kids at night, running through the garden jungle with their animal kingdom friends.
This was truly a treat to see.