As is always the case, there is much to see at a Garden Bloggers Fling, and our 2016 adventure kept us going at a fast pace.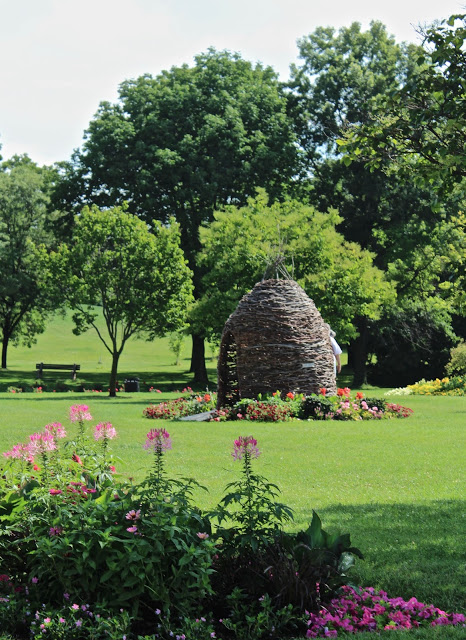 I fell in love with the explosion of color where this beautiful beehive beckoned in the Lyndale Park Garden. I waited quite a while to get a solo shot of this amazing sculpture in the garden, as all the other flingers were as enthralled with it as I was. (You can see I didn't quite let the last person get out of the frame. Tag yourself if that's your elbow!)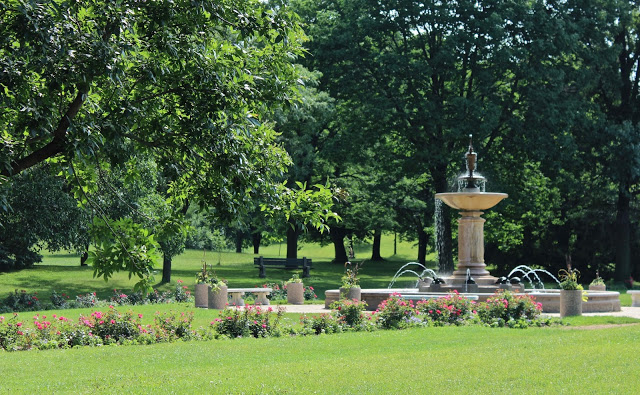 This garden was a creative combination of formal beds with this refreshing fountain, and some unique displays of a wide variety of pollinator plants.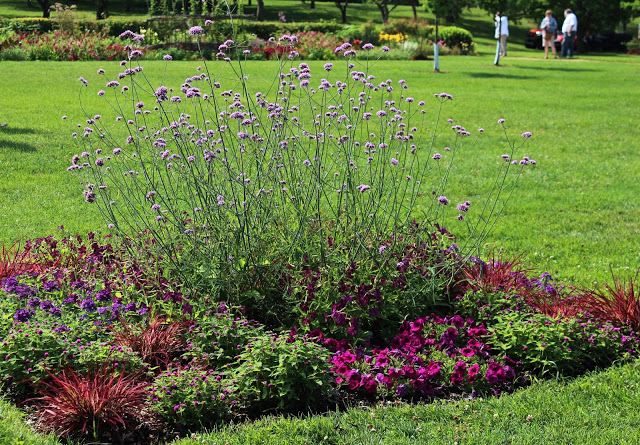 I was smitten by this display of Verbena bonariensis as the focal point in the midst of this checkerboard of annuals. I know this took a great deal of work to achieve, because my Verbena bonariensis is like a naughty child in the garden — it never stays put where I've planted it!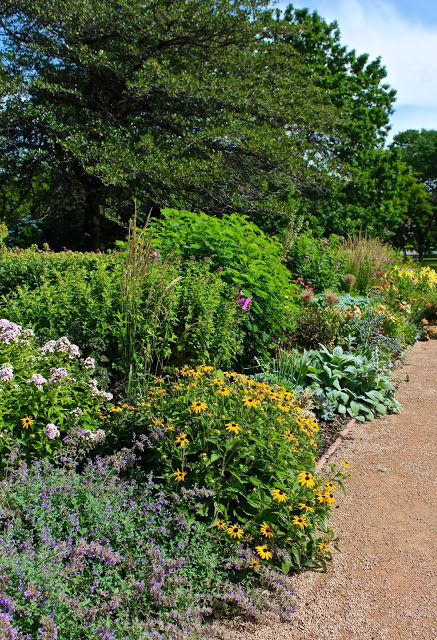 It was interesting to see so many plants thriving here that we can grow back in our gardens in Zone 8b in Austin, Texas, like the catmint and lamb's ears and rudbeckia.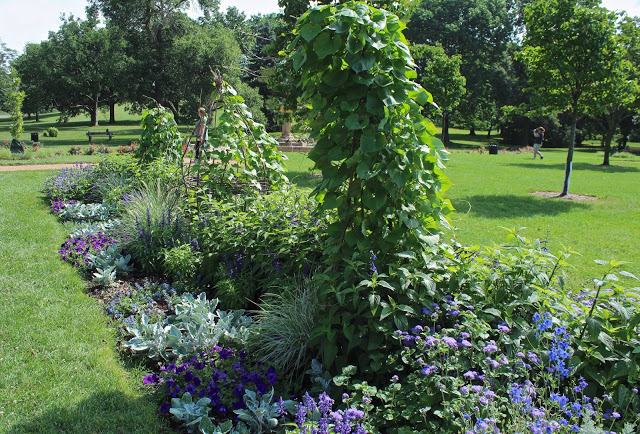 Blue can be elusive in the garden, so I was drawn to this monochromatic display filled with so many of the plants I love, like salvias.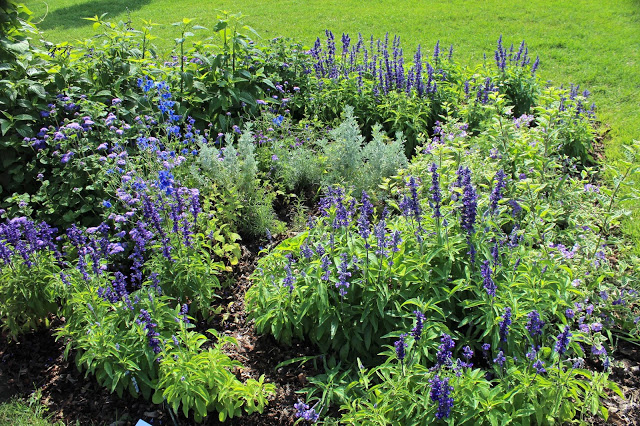 This is the perfect example of how repetition in garden design packs a powerful punch.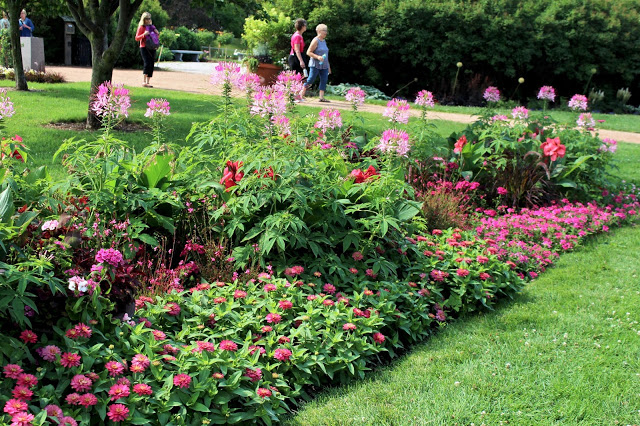 And then I found the pink bed! Between the hot sun bearing down on us and the profusion of pink and lime color contrasts in this display, it wasn't easy to get a great photo. But the Zinnias, Hibiscus, Fountain grass, Cannas and Cleomes were begging to have their photos taken. I had to oblige them!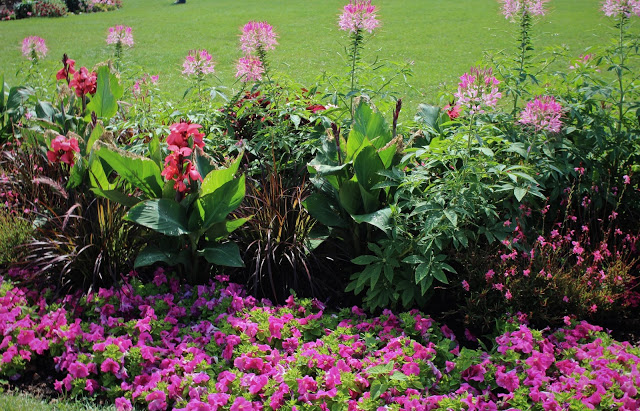 Oh, and now I see that they were joined by Guara as well.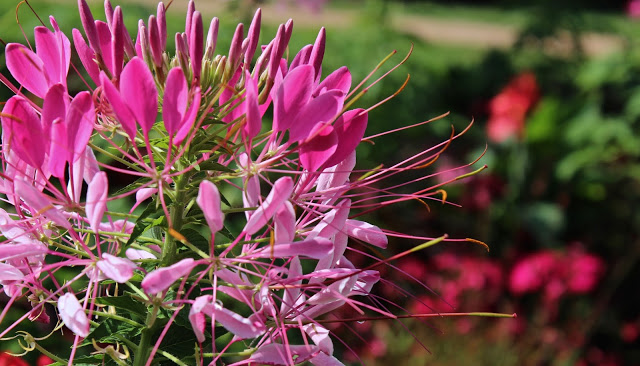 I grow cleome in my garden as well, although it gets a little weary of the heat about this time of year.
We also visited the Como Park Conservatory and gardens, where I have visited many times, as I lived in the Minneapolis – St. Paul area for four years, from 1988 to 1992. Conservatories always capture my fancy.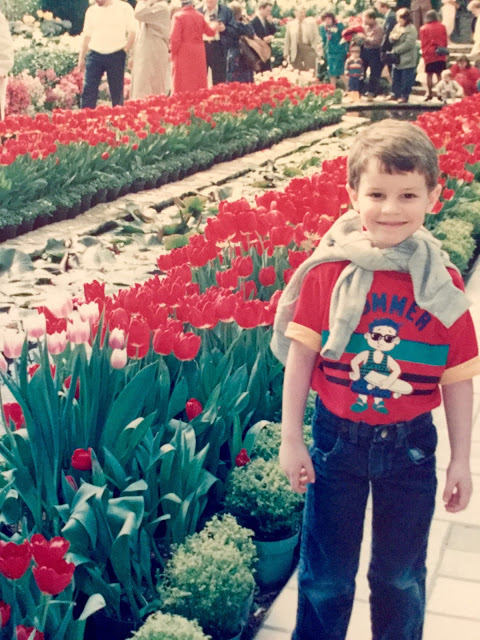 I first visited the Conservatory's Sunken Gardens in the Spring of 1989, when snow still blanketed the grounds outside but bulbs brought spring indoors. This picture of my son was taken when he was 5.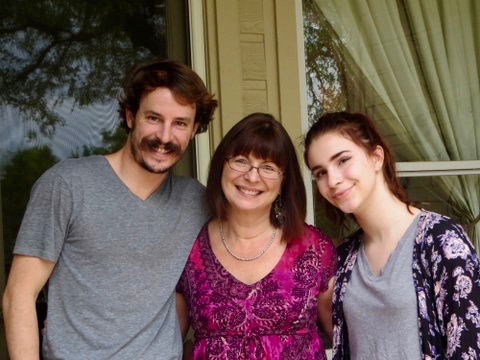 He's 32 now, and that is still one of my favorite photos of him. Visiting the park brought back many wonderful memories of our time there.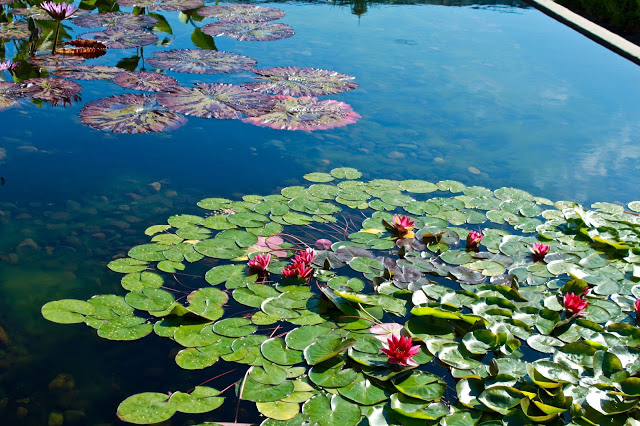 A pond of stunning water lilies greeted us as we approached the entrance.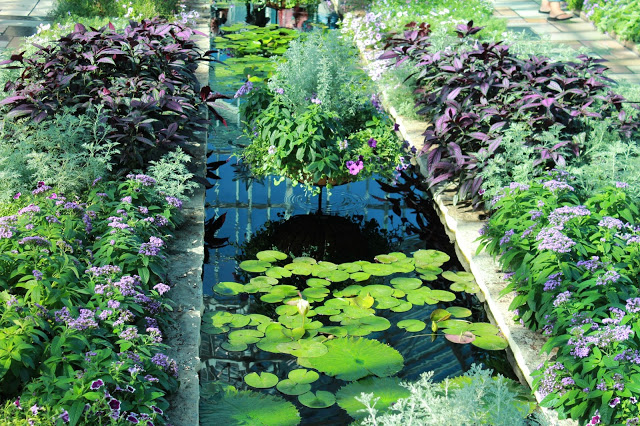 The Sunken Gardens look so different at this visit. Purples and lavenders and limes seem to dot every surface of the space.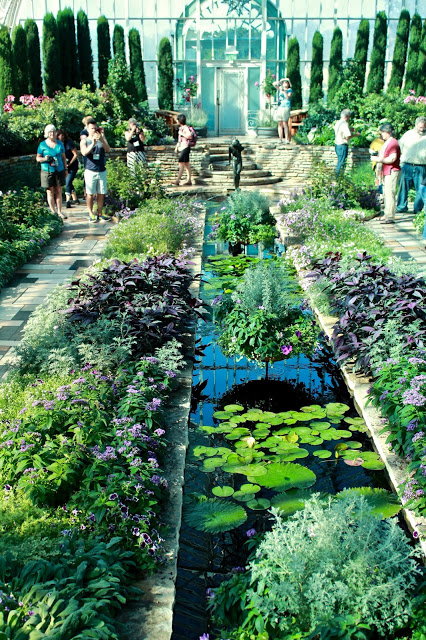 To see other posts of fabulous Fling gardens, check out my overview of Wouterina De Raad's mosaic sculpture garden and the Eloise Butler Wildlife Garden and Bird Sanctuary.