It's always interesting to poll Garden Bloggers Fling attendees about their favorite gardens. Some like gardens that showcase collections, some like gardens that highlight design. Personally, I had several favorite gardens at last week's Fling in Minneapolis. But this one stood out above the rest, filled with beautiful plant selections, gorgeous design and the heart and soul of the artist and gardener who calls this stunning collection home.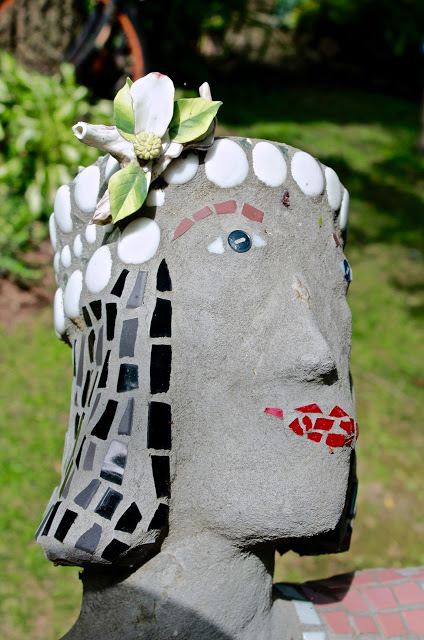 Just across the border into the luscious, rolling hills of Wisconsin farmland, Wouterina De Raad's Concrete Mosaic Sculpture Garden brought it all to the game. Chicken-lover, gardener, artist, and sculptor extraordinaire, De Raad, a self-taught artist, began creating life-size concrete and mosaic sculptures 27 years ago.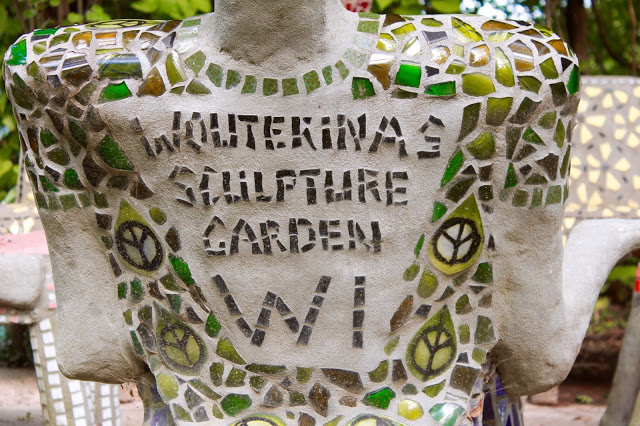 Of Dutch heritage, De Raad grew up on her family's coffee and rubber plantation in Indonesia. She brings life to her sculpture garden by drawing on her upbringing in the Indonesian jungle. Her collection includes statues of jaguars, pythons, and other exotic and mythical creatures. Leading the tour through garden, she regaled us with the folk tales of her childhood, and the stories from her own life that inspired her unique creations.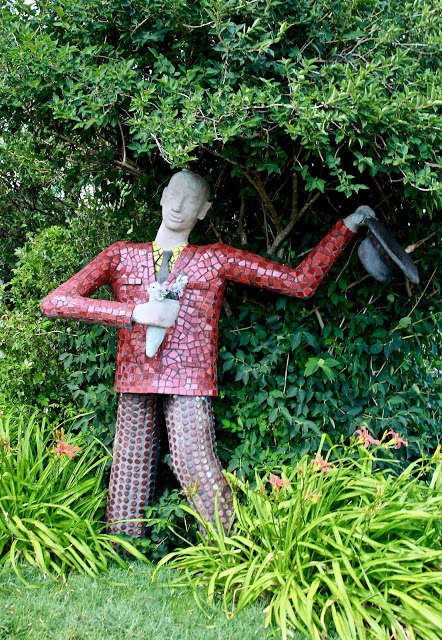 Welcome to the garden — come on in!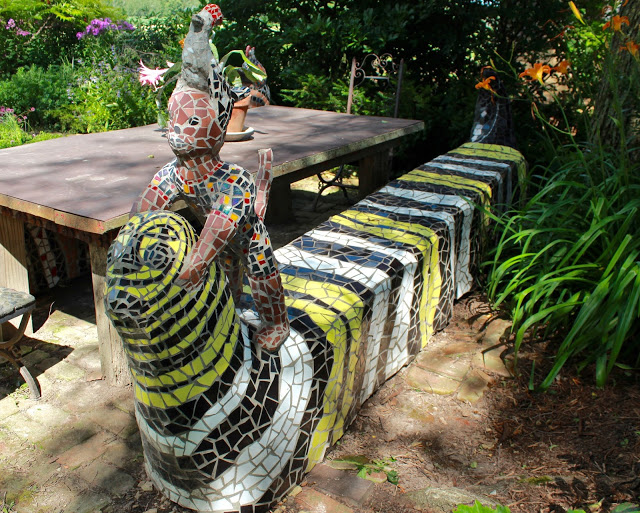 Her love of the garden and all its inhabitants is evident in this oversized Monarch caterpillar bench, complete with the jungle-inspired monkey on its back. And, don't miss the exotic bird on the monkey's head.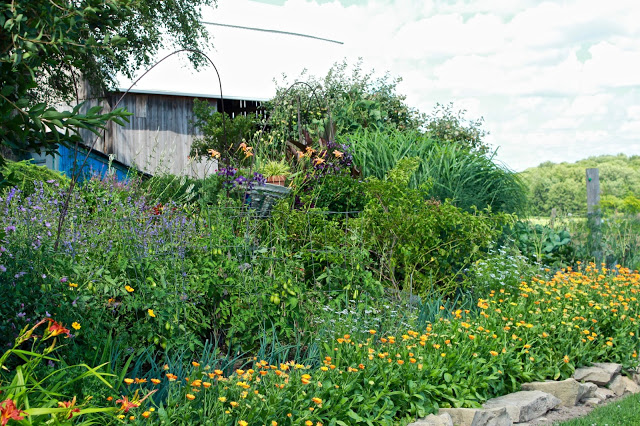 The intriguing sculpture vignettes of the garden are bound together by pretty pathways and endless beds filled with beautiful blooms, stitched together like a life-sized garden quilt.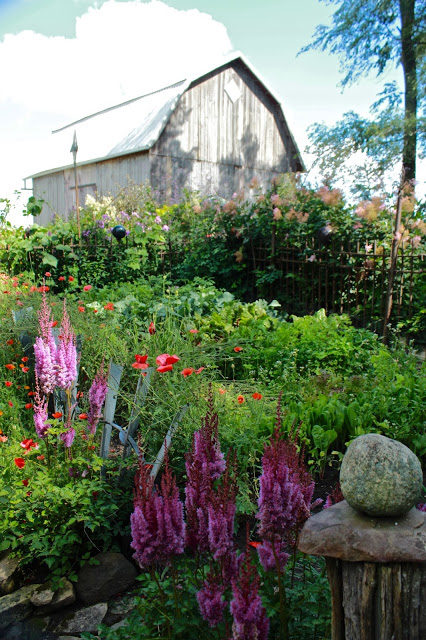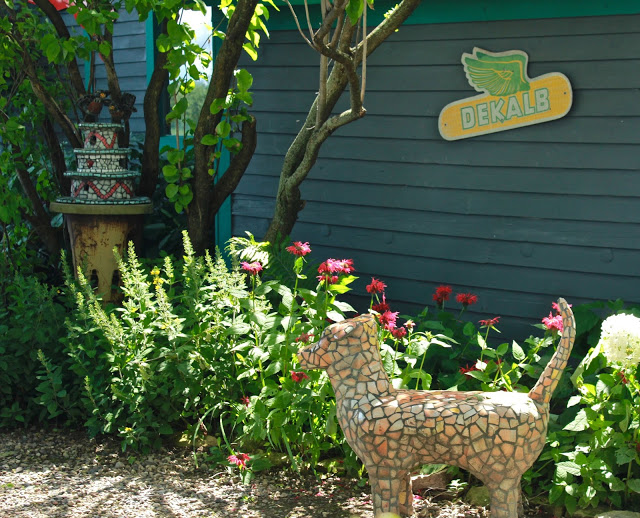 The perfect dog breed for the serious gardener. This one won't dig up bulbs, eat tomatoes or chase chickens! You'd better watch out, Fletcher and Dakota, you could be replaced!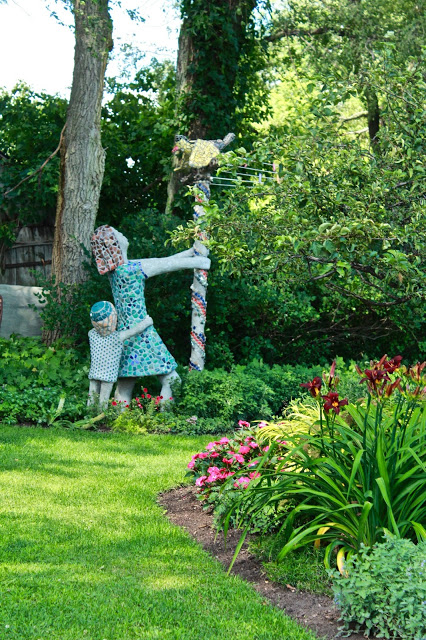 On one end of the charming clothesline, Momma and her young-un try coaxing a chicken off of the pole.
On the other end, Mr. America holds everything in line.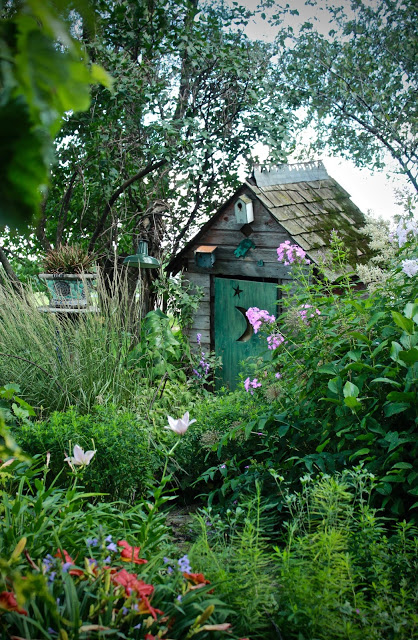 The garden also sports a seemingly endless array of little cottages, sheds, workshops and other quaint buildings, each its own palette for yet another display of De Raad's artistic talent.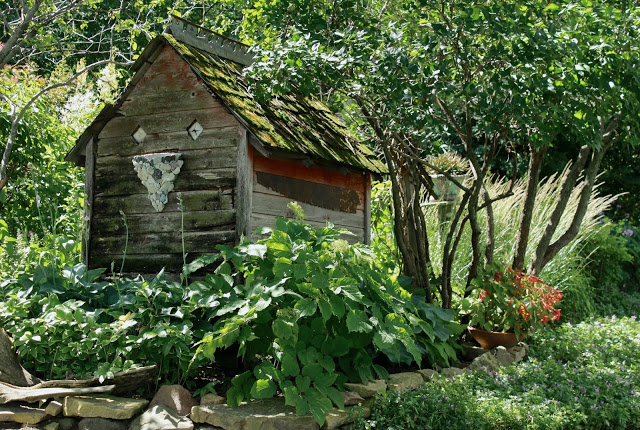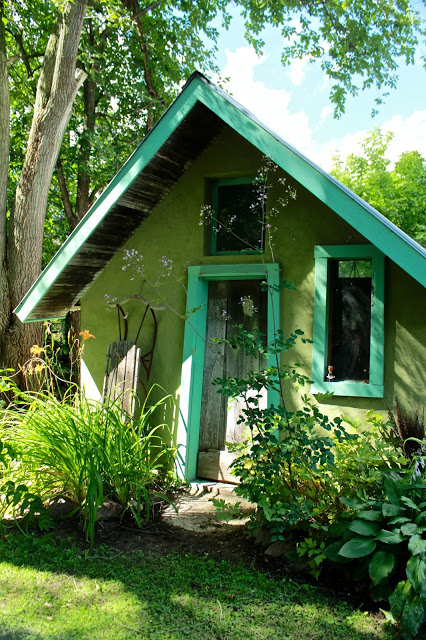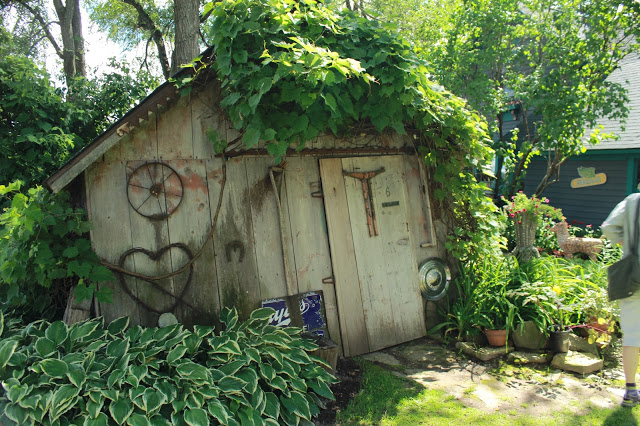 She wove a spell-binding tale about the jaguars in Indonesia as we passed by this building, closely guarded by her sculptural tribute to the fierce cats.
Sadly, my iPhone notes simply read, "jaguar story," and I can't remember the details.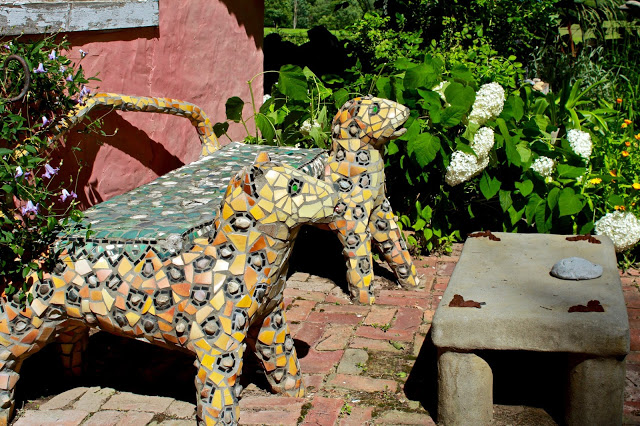 I marveled at every turn at her innate ability to transform the most meaningful impressions of her life's experiences into beauty and art.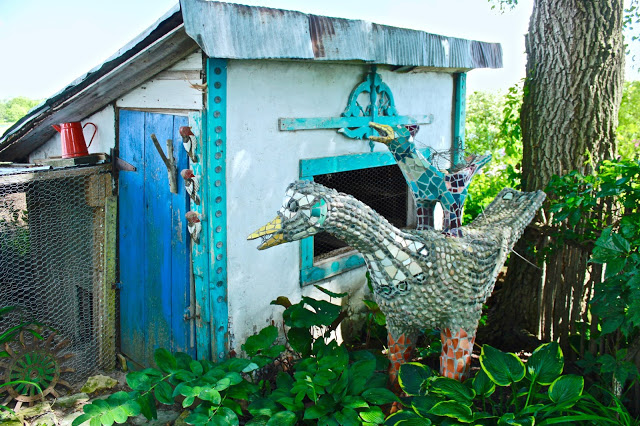 The charming chicken coop, complete with its own namesake statues, was full of reused and recycled decor and several beautiful chickens.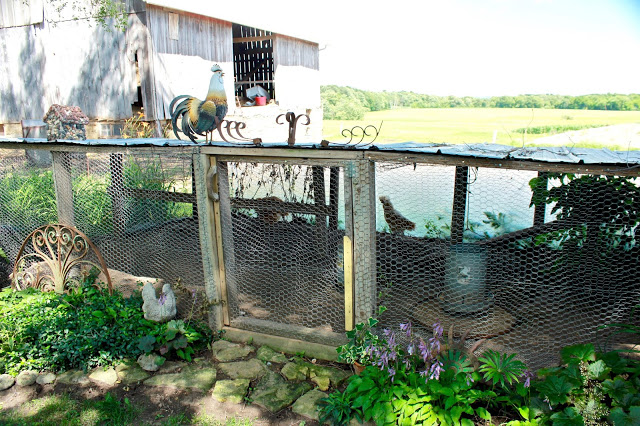 I couldn't really get any good pics of the chicks, and after all, the garden was calling…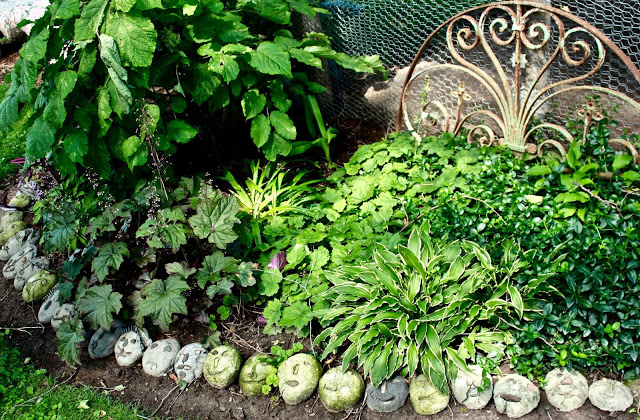 But even the quaint bed in front of the chicken run was an art display. I can' resist – De Raad left no stone unturned in bringing character into this part of the garden. Each of the border stones were given unique expressions, most of them smiling up at garden visitors.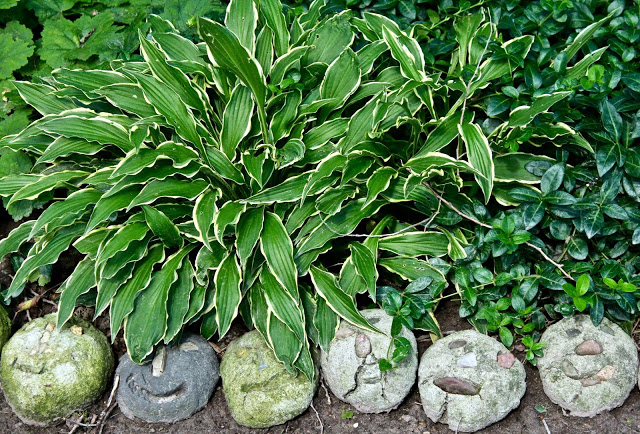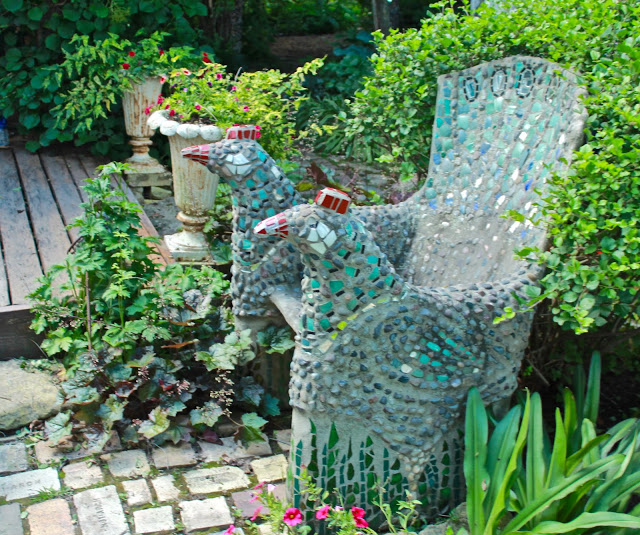 And then, the chicken chair. Who wouldn't feel like the queen of poultry sitting atop this perch?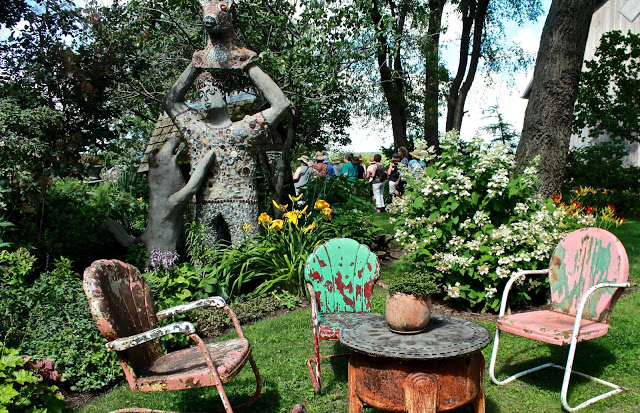 With so much to see in this 3-acre garden, visitors can stop and rest at many lovely seating areas. This perennial border dotted with lilies frames the man and dog sculpture in the background. I didn't catch the story of the body-less head the man is holding, but I'm sure it's a doozy!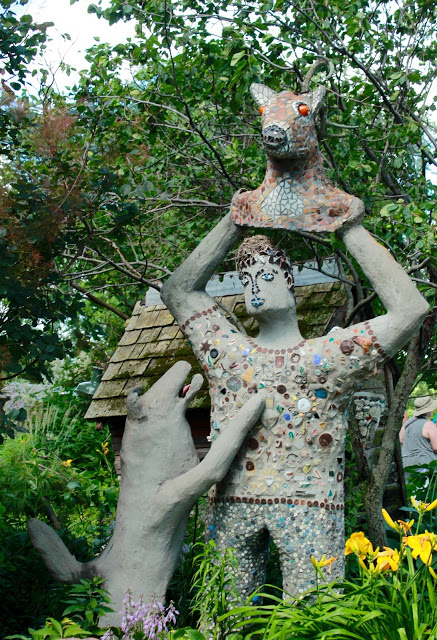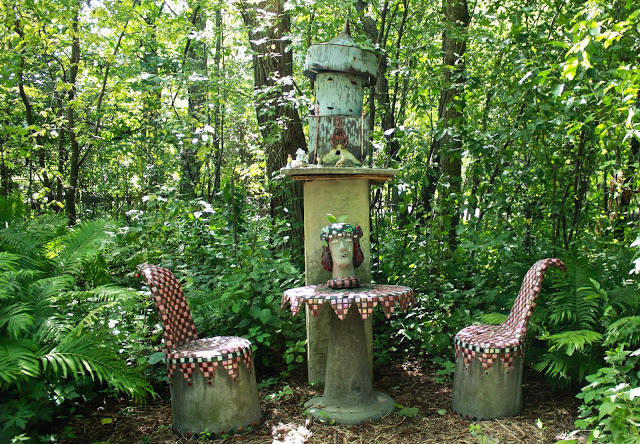 This seating vignette transports me to Alice in Wonderland…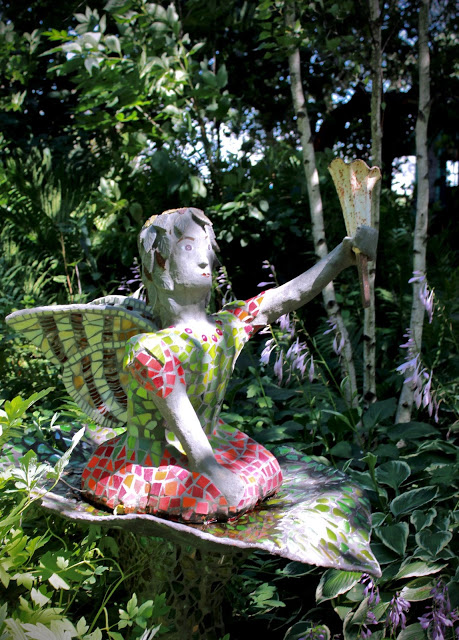 Most of the sculptures in the garden are also lighted. I would have loved to seen this magical place in the evening, with all of De Raad's concrete family members shining beacons across the garden.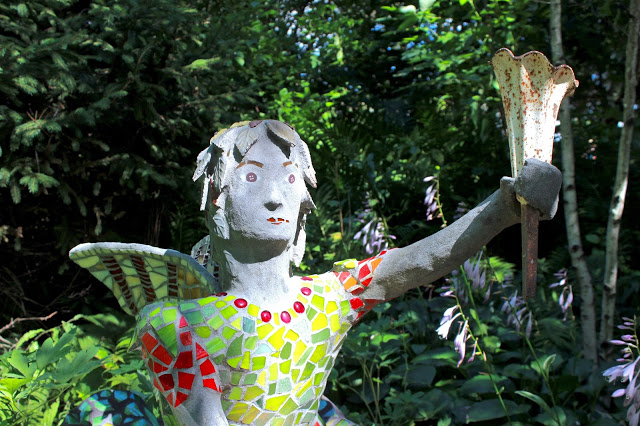 After hours of editing and prepping, this post only skirts the beginning of this amazing garden. So, stay tuned, another post is yet to come!