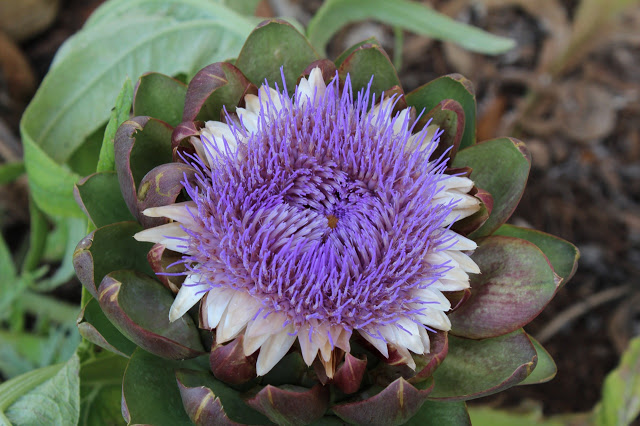 Ok. I know the answer to that.
Eat it or watch it bloom? That is the question.
First artichoke of the year and the answer was simple. Watch it bloom.
I've done it before, and loved looking at their amazing flowers.
But as I rounded the corner in the vegetable garden today, it literally took my breath away.
The color, the fuzz, the exotic quality, the intricate petals.
So this was the first test for my new DSLR camera – a Canon EOS Rebel T3i. My number one priority was a lightweight DSLR I can take with me on garden tours and to the annual Garden Bloggers Fling. I have a point and shoot, and my DH has a very high-end professional Nikon that's heavy and I won't travel with, but this is really what I need.
Looks like it takes pretty good photos, too. (Though you can't really tell on Blogger because their photo quality is so low, you'll have to click on the photo to get a good look.)
But then the artichoke bloom was a brilliant subject!