As if tours of Kylee's garden (Our Little Acre) and her mom Louise's garden (Two Girls with a Purpose) weren't enough – I got an added bonus. After lunch I got to see the amazing Children's Garden that Louise helped design, create and raised the money for it as well.
I thought – yeah, yeah, I expected a few raised beds and maybe a birdhouse or two. Oh my. Was I in for a treat, and you will be too.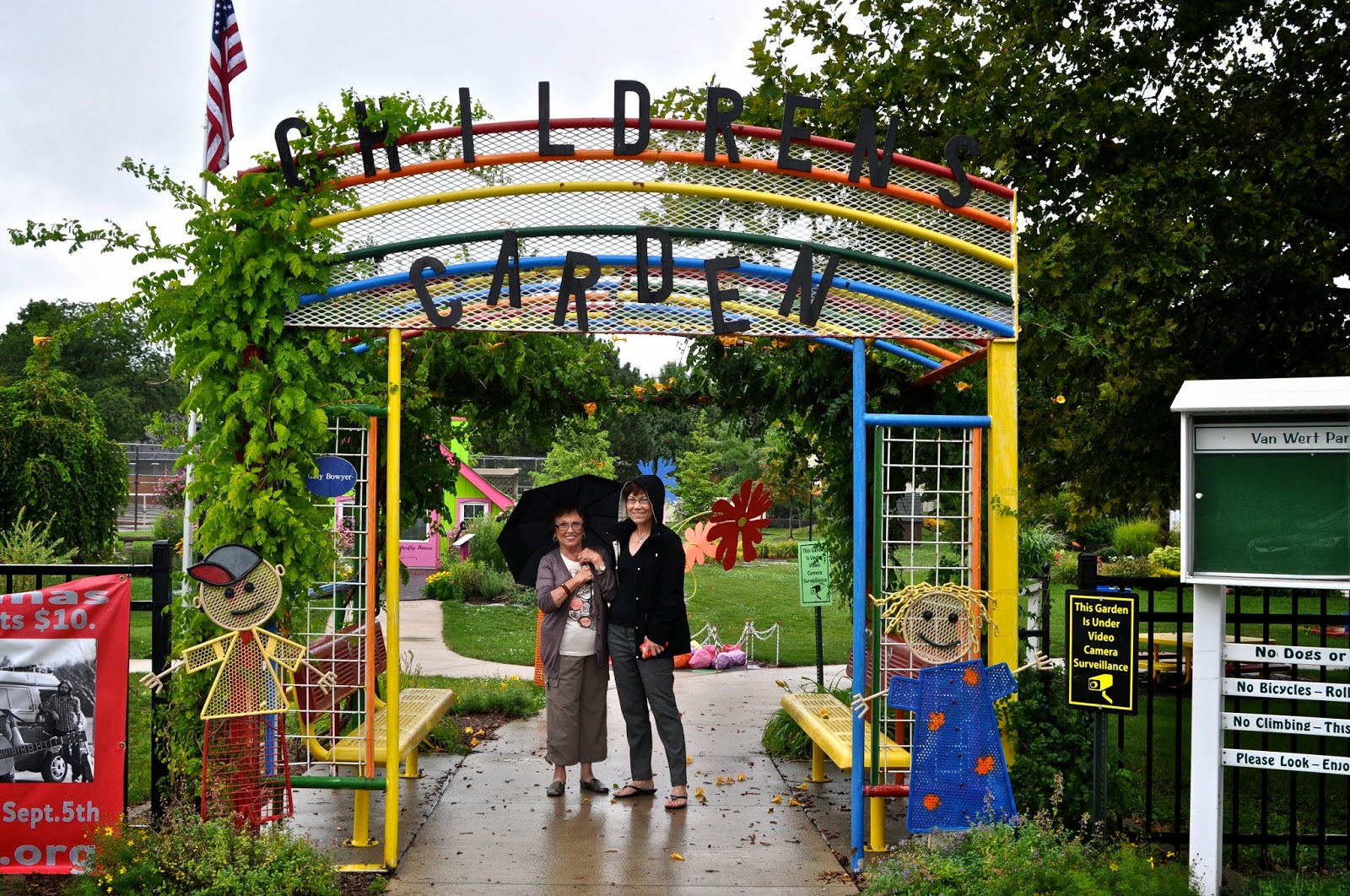 With an entrance like this, I knew big surprises lay ahead.
Louise and Kylee – ready to lead the tour (with proper rain gear).
Welcome – come on in!
Just follow the path.
Something's not quite right (angled) about this kiddie fun house.
Who doesn't love running over a bridge?
The bed that runs along the inside of the circular path unfolds with the letters of the alphabet and plants that start with that letter. From asparagus to zinnia – it's all about learning.
Beautiful plants dot the garden at every turn.
No shortages of places to play and be "hands on."
This would inspire any child to eat vegetables.
Animals – friendly and stauesque – fill this garden with adventure.
This rainbow garden, the contribution to the park from Louise and Kylee's family, was truly one of my favorites. Filled with stunning plants in full bloom, they echoed the rainbow pathway just begging to be walked around.
The creativity factor in this soared through the roof.
And the focal point, as if all the other components weren't enough, is this sculpture that celebrates inclusion, diversity, peace and harmony and love around the world. (Well, that's my interpretation of it.)
"Good morning, Mister Sunshine, you brighten up my day." — Bee Gees
Everyone's a kid in a children's garden — even me!
One of the most exciting stops in the garden — the butterfly house. All the plants in the garden around the house were butterfly friendly.
How insightful. And what an amazing lesson for children — to see life unfold before their eyes — through two different perspectives.
Pollinator heaven.
And a little clever art with a seat to go along with it. Perfect for butterfly watching.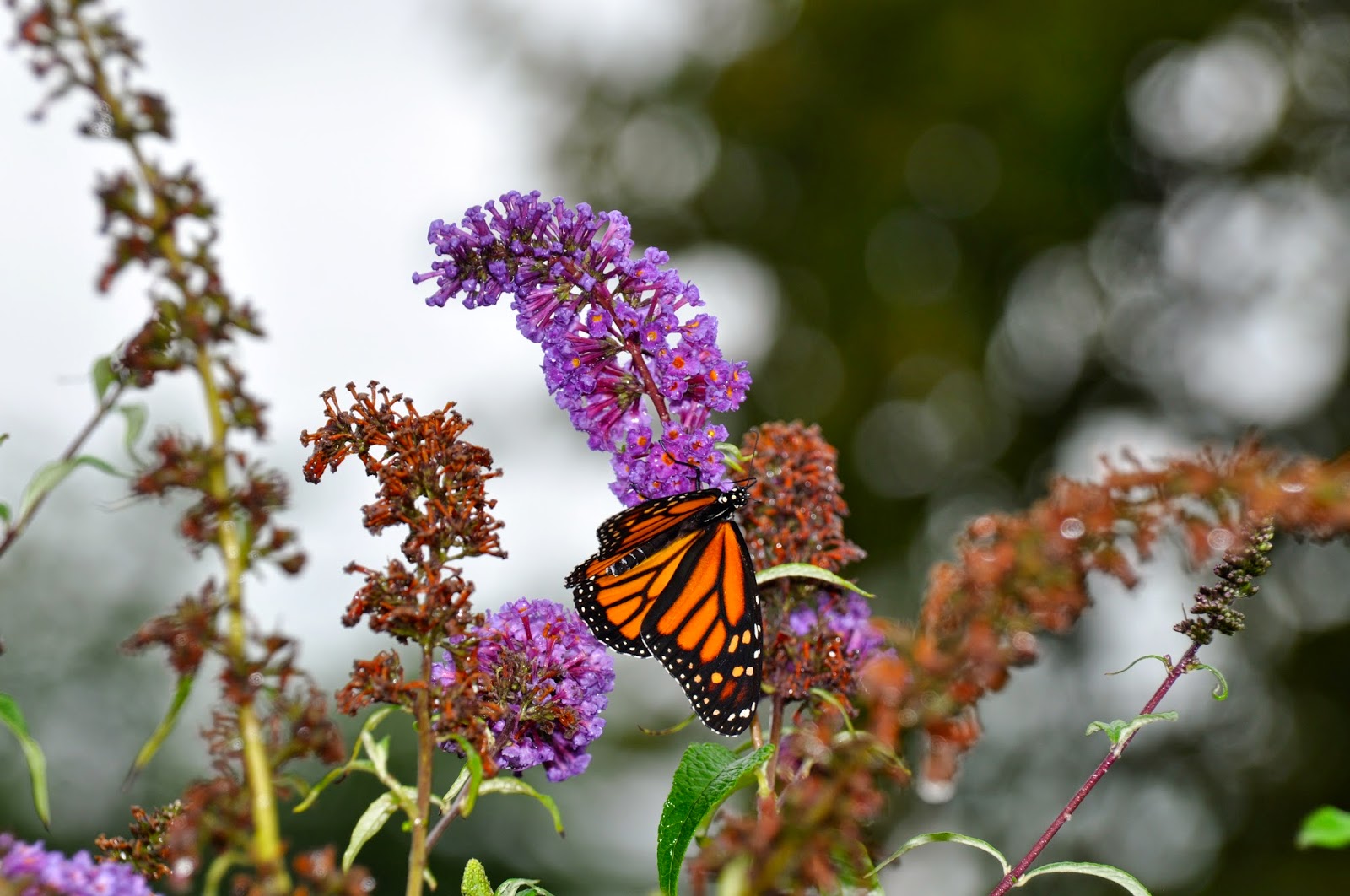 Amazing creature.
The inside of the house was covered with chrysalises and butterflies that had just emerged.
They were everywhere – just waiting to join their flying friends.
They paid absolutely no attention to me – leaving my happily snapping away with my camera to capture the moment.
Then we entered the secret garden – ducking in and finding ourselves in a perfect hideaway.
Kitty guards the entrance. It's a stone sculpture – in case you couldn't tell!
A peaceful Zen garden is one of the last stops around the park.
And finally, a monument that honors the contributions of local businesses and citizens, like Louise, whose creativity, hard work and financial support made this all possible.
I only wish I lived near the garden, because it's really not just for children. It's an amazing park that delights the senses of young and old alike.
What an accomplishment, Louise. My hat's off to you and all you did to make this a reality.