As I was making the rounds through the garden this evening, I was struck by the uplighting into the bottle brush tree, Callistemon rigidus.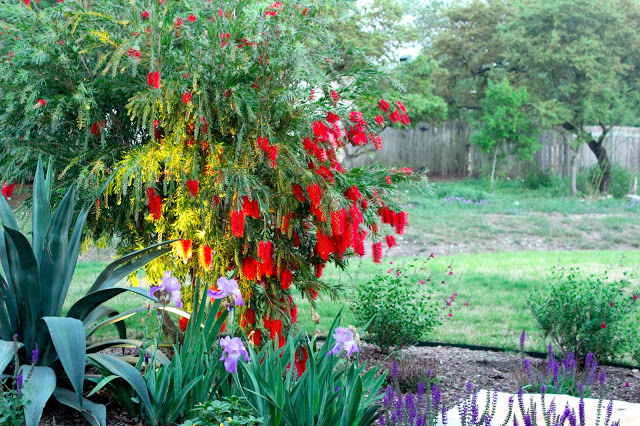 I have been overwhelmed by the healthy, growth and year-round blooms on this tree. With a growth habit of 10-12 feet, it is drought-tolerant and attracts bees, butterflies and birds.
This is the freeze replacement tree from Bottlebrush tree #1. Then the next bad freeze came and wiped this one out. Or so I thought. It came back from the roots after last winter and I let it grow like that for a little while to determine what the trunks would look like. Then I began to prune it up like a small multi-trunked tree, instead of a bushy shrub. It's worked out really well and I think I like it even more than the original single trunk.
I like the softness of the flowing bottle brush next to the structural rigidity of the blue agave.
A peek as the blooms first begin to emerge from the buds.
The buds look a little like alien fingers reaching out to you, don't you think?
Just look at all those blooms. I did have to share space with the bees while I was taking pictures.
Then a last shot of the blooms up against the eerie color of the sky at dusk.