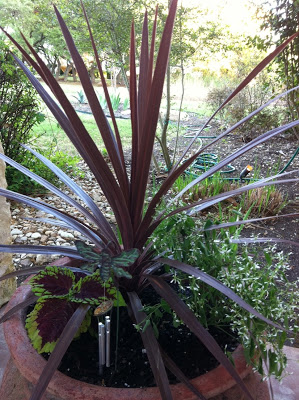 Spring really is here.
After a record-setting high of 93 last week and then a low last night of 41, we're officially on the roller coaster.
Central Texas is covered in Live Oak neon green dust and our budding beds are littered with dead oak leaves and pollen.
The winds are gale force and the rain is non-existent. Lake Travis is down 8 feet already.
But it's time to start cleaning and clearing and planting in the garden.
The to-do list seems endless. However, like most things, it's best just to pick one small task and start.
So, today I checked off one of many items on my spring clean-up garden to-do list.
Thrillers, spillers and fillers have taken up residence in the two giant pots on the front porch and I must say they are quite happy there. (Well, let's say I am happy with them there.)
I usually fill these pots with an explosion of hot annual color, but I was tempted by these Cordyline a shopping trip to some new nurseries last week. And then the Diamond Frost Euphorbia jumped into my wagon (the deer ate them in my beds last year, but pots on the porch will be *should be* safe). They were soon joined by the Asparagus Fern and the lovely Coleus.
What's on your spring garden to-do list? Any thrillers, spillers and fillers in your future?