What would a weekend garden tour trip be without a nursery tour to go along with it?
Not as much fun, that's for sure. So when my friend, Pam, of Digging, planned our Houston Garden Conservancy Open Days trip last weekend, we had two nurseries on our fun-filled itinerary: The Antique Rose Emporium in Brenham (I'll post about it soon), and The Arbor Gate in Tomball, a whimsical destination nursery packed with garden art of every imaginable type.
They describe their nursery as: "an inspired collection that includes unusual plants, artisan-created decorative pieces, and a constantly changing array of items that bring beauty, comfort, and even flavor to the home and garden."
There were two lovely shops with home and garden gifts galore. I could get lost in a place like this.
This giant metal rose sculpture truly is a Carefree Beauty – no blackspot here.
Darting among the metal statues, I'm not sure who was more curious – me or this duck?
I was intrigued by all of the birdhouse art. I had my eye on one, but ended up with a piece of glass art instead. Now I wish I'd splurged and bought one of each.
The wall of the store was lined with talavera painted creatures.
This bevy of terra cotta cats seemed to be watching us wherever we went.
Unlike these two lazy porkers, who paid us absolutely no mind.
I think the duck was looking for a date here, but the herons weren't interested.
And the pottery – boy was there a lot of pottery.
And more critters.
And more birdhouses.
And it wouldn't be a nursery without some ceramic mushrooms.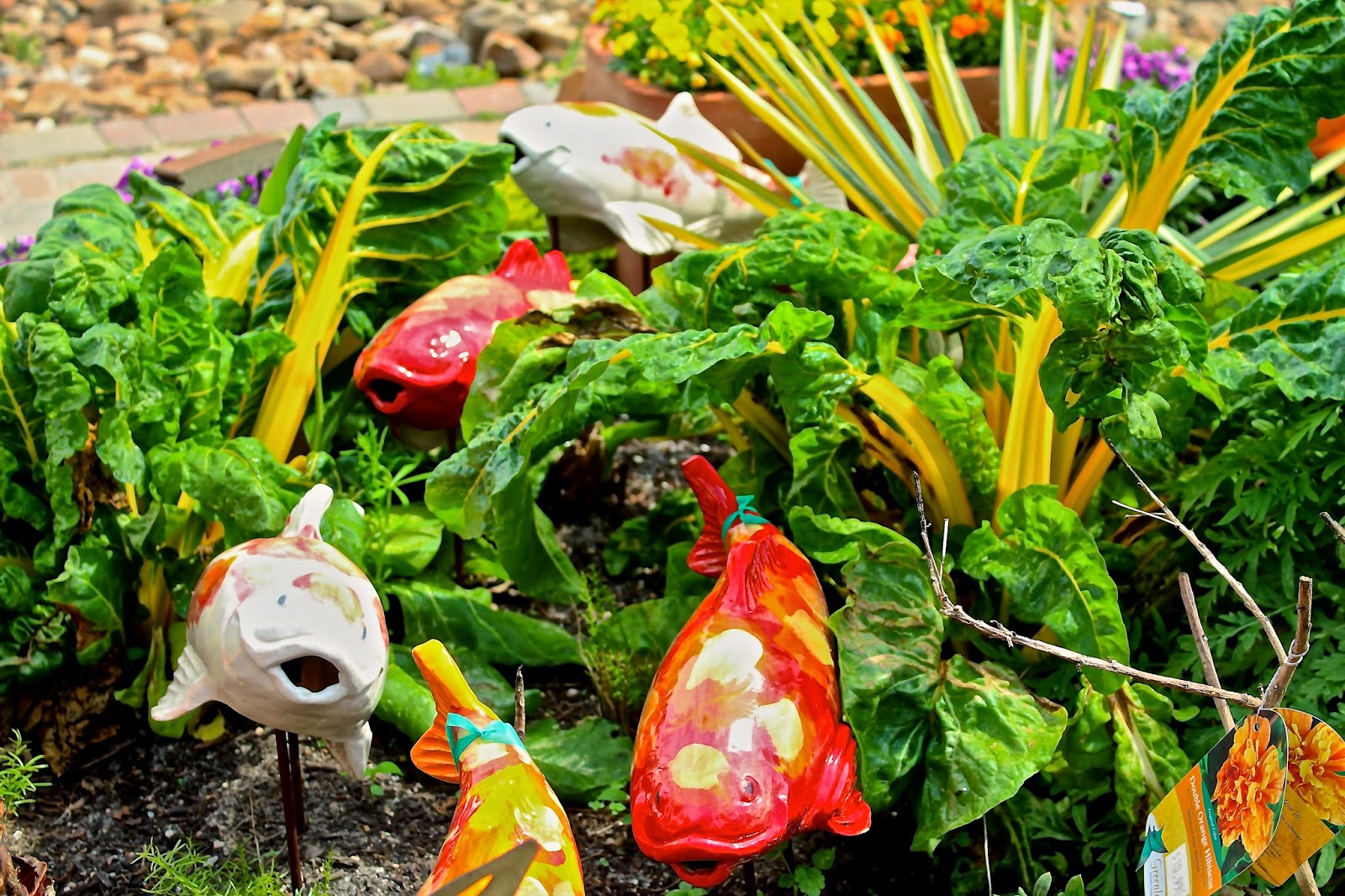 I particularly liked this sea of ceramic fish swimming through this bright bed of chard. They looked like they were trying to talk to us.
They also had a wide variety of glass garden art – I almost bought this one, but ended up with a different piece – same colors but a different shape. It hasn't found its perfect home in my garden yet, so that will have to be another post.
You can see Pam was having a great time loitering among the plants.
More animal garden art. I'll bet that dog doesn't wake its owner up at 5:30 on the weekends (like some dogs I know).
Their poppies were stunning.
I loved these Spanish-inspired colorful garden stakes.
And more cute 'shrooms.
Flying bugs …
…and flying pigs.
I cannot tell a lie – a beautiful succulent from this table went home with me.
Here are more of the glass sculptures. They remind me of the amazing chihuly glass, and they were reasonably priced. I can't wait to find the perfect place in my garden for the one I bought.
They also had a wonderful selection of plants and the nursery staff were very knowledgeable. We shared stories and asked questions and identified a few new varieties of plants to try back here at home in Central Texas.
Gardens and shopping. Kind of like peanut butter and jelly. We had a blast.
If you're in the north Houston area, make time to visit this magical nursery — you'll be glad you did.