It's a sad state of garden affairs here in Central Texas as we celebrate Garden Bloggers Bloom Day with our friend Carol of May Dreams Gardens.
Earlier in the week, when the sun was shining on our cold winter days, there were a few perky little blooms hanging on. Despite freezes last weekend, some lonely survivors still brought us some color.
But today is dreary and rainy and the blooms are few and far between.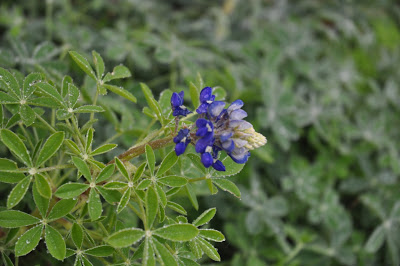 EXCEPT for one lonely blue bonnet.
I think this little plant must be confused. It certainly hasn't been winter long enough for it to rise from its sleep. Winter only really arrived last week.
And it's not inside the greenhouse, it's outside where all its little friends are still nothing but slowly growing foliage…biding their time to bloom far later into the spring.
In fact, last year I was posting about blue bonnets on the April 15th Bloom Day, and here it is January and already this single blue bonnet has sent up it's banner.
I'm not complaining, mind you. A bloom is a bloom. It delighted me when I first discovered it last week. And it held on for me to share it with you on Garden Bloggers Bloom Day.
I suppose it's just a small reminder that spring really isn't that far away.