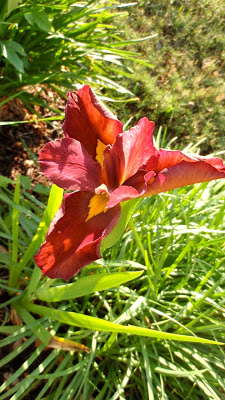 I've been wondering if my irises were going to put on a show for me this year.
Last year, none of them bloomed.
At all.
I had planted several different varieties in an effort to create the beginnings of an iris bed.
My first irises were a mystery. It took me lots of searching and some blogging queries to determine that this is a Louisiana iris named Professor Neil.
I'm afraid I didn't get the full range of color with my camera. It was a little too hot already and when I realized the photo was lacking, I went to shoot another, but today it's gone already.
I am so excited to see that glorious dusty burgundy color with the wheaty-gold. They are so rich and unusual.
There is another bud in the iris bed. It's a very different kind — I think it might be either a Lace or Ocelot iris that I ordered and planted in 2008.
It's like Christmas in May!
A surprise around every corner — after last year's iris-bloom drought, I'm enjoying every one of them.