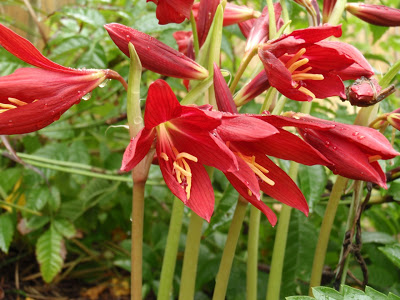 I was so sad when I read on Zanthan Gardens and Digging that their Oxblood lilies were beginning to bloom. I lovingly planted several clumps of them last year after MSS of Zanthan graciously shared hers with me. Sadly, the DOG got into them and I feared the worst last week when no signs of lilies appeared.
Then, after our 7 inches of rain over the last 3 days, I went out to investigate this morning and lo and behold, Oxblood lilies!
One big, beautiful clump of them. I have another straggler elsewhere, and there might be a few more — I'll just have to wait and see. But this wonderful rain brought them out and they are so pretty and bright.