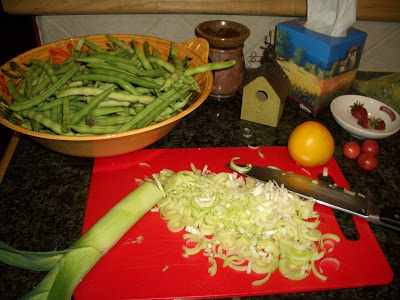 This was the scene from my kitchen this afternoon. I sliced up leeks to fry and crisp up to top some boiled and fried potatoes, cut up green beans for a side dish and sliced a Lemon Yellow tomato to eat with just a little kosher salt.
Yum, yum. The beans were picked about a week or more too late, but with travel and other family things going on, I finally got to them today and my husband and I are both at home together tonight to eat them.
The leeks were originally going to be potato leek soup, but I thought I'd try something different and it worked great. They were browned little crisps that went great with the browned potatoes.
And the tomato was sweet and delicate, with a lot less acidity than your average red tomatoes. They have a very subtle but very nice flavor — I'd plant that one again. The cherry tomatoes on the counter were "Hank" and were sent to me for free with my TomatoBob heirloom tomato seed order in December. My DH said that they were not as sweet as the normal cherry tomatoes we grow, so I don't think I will order them.
Paired with some pork tenderloin medallions under the broiler, as Martha Stewart would say, it was "a good thing."