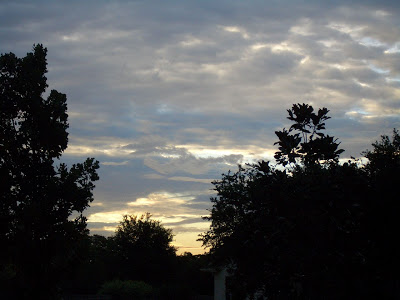 Can you feel the Fall air that's swept into Austin this week?  
This morning the thermometer at our house read 61 degrees.  What a nice relief.  We've been waiting a lonnnnnnng time for some cooler weather since our first 100-degree days arrived in early May!
Today at noon, it was 77 degrees and I was fully engaged in planting, pruning and pulling weeds.  Finally.  I have not been motivated for quite some time.  Those weeds were screaming at me and I was ignoring them — day after day!  But today, they got my attention and I finally silenced them — at least some of them.  I planted the Cuphea that I posted yesterday (and before they died, even, so I get a gold star!), pruned my overzealous lantana in several beds and pulled nut sedge.  I'm going to "treat" them, but I'm out of "treatment" right now, so I had to pull these and vow to get rid of the next set right as they come up.  So, one bed down, five to go!
Wish the brisk temps were here to stay, but it's not to be.  We're going up a degree a day and will be back up to 90 this weekend.  But hey, that's still not 100!