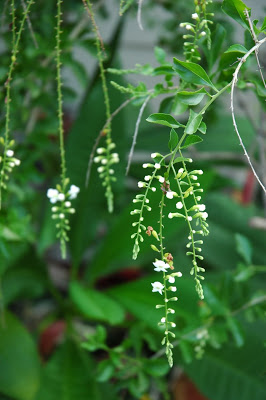 It's hot and steamy in Austin, Texas this Garden Blogger's Bloom Day when Carol from May Dreams Gardens brings bloggers around the world together to share a peek into their gardens.
We had RAIN today at our house!!!! We got a quarter of an inch in a very short time and it was a blessing. I'm not commenting on the fact that the downpour happened exactly when I walked out of the grocery sstore with a cart full of food. I just smiled and let it plaster my hair to my head, being mindful of how much we need it and how long I've been hoping for it.
We're supposed to get more tomorrow, and on through the next week, and I say, bring it on!