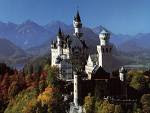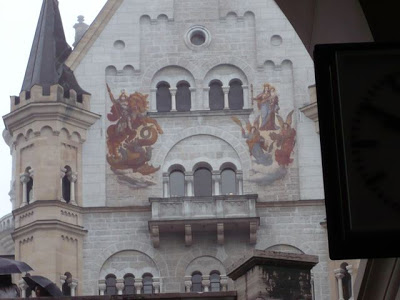 Austin…hot, dry…104
Germany & Austria…wet, rainy…55
We're making lemonade here. Yesterday we started our day in Fuessen, a charming town at the foothills of the Alps. Our plan was to climb up the side of a mountain for a tour of the spectacular Neuschwanstein castle, built by King Ludwig II.
When we woke up, it was pouring. When we got to the mountain it was pouring. When we stood in line for the bus part-way up the mountain it was pouring. And it poured on us as we walked the last undriveable 15 minutes up the mountain.
There were no photos allowed inside, but we got this one from a nice vantage point on the path. The castle was finished days after Ludwig died in 1896, and is amazing. Very ornate, it is full of frescoes of all the scenes from Richard Wagner's operas, which is why it is called the "Fairy Tale" castle. It's the castle on which the Disney castle was modeled.
Our 5-year old was great – and she enjoyed it immensely, in spite of pants soaked to the knee and a drenched rain jacket.
Our drive east to Salzburg was tedious – heavy rain, a small, two-lane road and German drivers. But it was beautiful.
The rain and cool air brought the clouds and the mists down over the alps and gave them an eerie quality that was really a sight to see. Not sure this captures it very well, but you get the idea.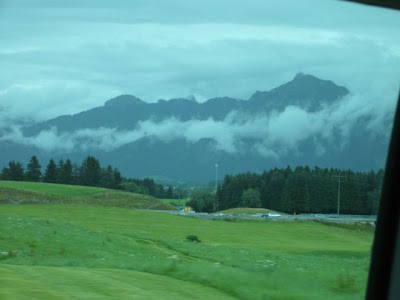 Yesterday afternoon we arrived in Salzburg…in the rain. We walked a little down our street, enjoyed a nice Austrian dinner and turned in early. It's 2:45 a.m. here as I blog this (jetlag is still waking me up in the night) and I'm eager to see the city. It's beautiful, the birthplace of Mozart, and full of castles and fortresses and baroque churches.
And, for right now, it isn't raining … I'm keeping my fingers crossed (and my unbrella handy!)