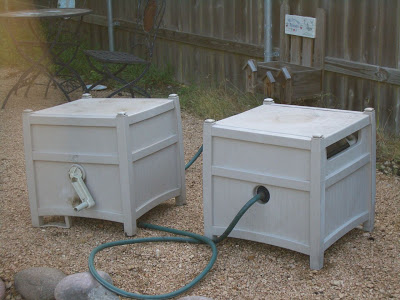 For all my Austin (and neighboring) garden blogging friends:  These two hose reels are free to a good home if you will come and pick them up!  First one to email and ask for them wins!
(Those of you in Indiana, Tennessee, Oklahoma, Maryland, Louisiana and the rest of the world are also certainly welcome to come get them!!!)
We are the proud parents of two new reels that retract automatically, and with tendonitis in both elbows, that's a Godsend to me since cranking is really hard on my arms.  But these two are in great shape, and I thought there'd be no one better to bequeath them to than one of my garden blogging friends.
So, first come, first served!