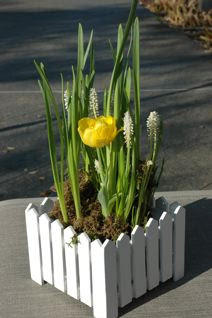 Signs of Spring are everywhere.
Before my outside bulbs started to open, I'd ordered this little Spring planter from a catalog.
It's a little wooden picket fence with potted bulbs in it. Very festive to have in the house over the Easter holiday. I set it outside for some fresh air and sunshine today. It was 64 here today and breezy. Supposed to be a little warmer tomorrow.
I'm amazed that the daffodil bulbs I planted in January opened up today. And I'm thrilled to report that two of the allium I planted in the fall have poked up through the mulch. I've always wanted some and this is my first attempt.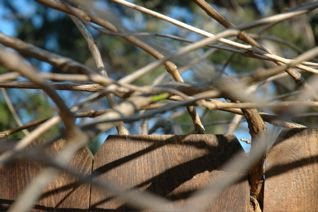 If you look VERY carefully, you'll see a tiny, lime-green bud in the middle of this photo. It's the first sign of life on my coral trumpet vine.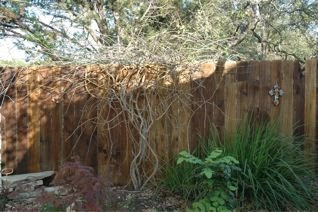 This is the full vine – so much of the woody stalks cut back and it's still huge. It takes over the whole fence and it's beautiful when it's in lucious bloom.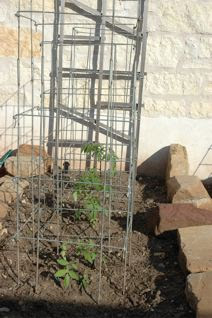 A little structure here – these are my fabulous Gardener's Supply Co. square, foldable tomato cages. They held up even the 7 foot tall and unwieldy tomatoes last summer. I love them.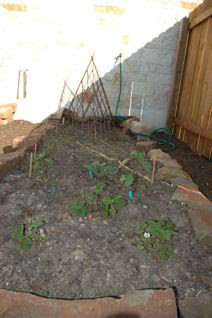 These are strawberries, mustard greens, swiss chard, cilantro, peppers and in the back, green beans.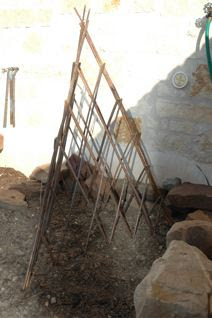 I had to show you my little wooden tee-pee trellis. I got it at the Natural Gardener – paid way too much for it, but it was so beautiful I just had to have it. I can just imagine beans dangling from those cute little wooden sticks!
After all, part of the fun of gardening is shopping, don't you think? It is for me.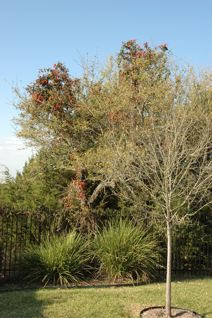 Look closely, high up in the tree that's behind the bi-color irises and the iron fence, and you'll see my crossvine – going exactly where I don't want it to go. (The story of my proverbial gardening life!)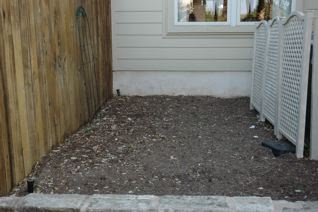 And, finally, this is where the day lilies, a vine, some annuals and something I've yet to decide on will go — maybe even this week. I'm going to plant in an arc from the left front around to the back right. Just above this photo is one of our two breakfast room windows, so it will make a pretty sight when we're eating.