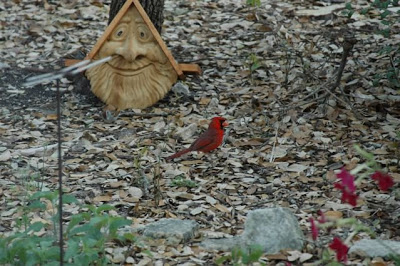 Our wildlife friends enjoyed a nice Easter Dinner today as well, thanks to my husband and daughter who filled all the feeders for them yesterday.  
My husband captured some great shots today, here you see Mr. Cardinal – our dear friend and long-time neighbor – having a feast of sunflower seeds.

Mr. Squirrel, though technically uninvited, continues to come for dinner anyway!  Neither dogs barking at the window nor feral/neighbor cats nor my husband cranking open the window and hissing at him seem to have much effect.  In spite of his having broken my outrageously expensive Christmas gift cottage house feeder, I've given in…after all, squirrels have to eat, too.

Look closely, this is our first beautiful goldfinch of the season, right in the middle of the branch.  They are so bright and colorful.
Not captured on film today (well, not really film, either!), were a scrub jay (similar to a blue, but without the white markings on its wings.  We also had titmice, sparrows, house finches,  and wrens.  I think that the cliff swallows have come to reclaim their nest on the front porch because spots of bird poop appeared today just under the nest.  I'll have to keep an eye out for them – last year someone had two sets of babies up there and it was a joy to watch them grow up and learn to fly on their own.
Happy Easter to all~