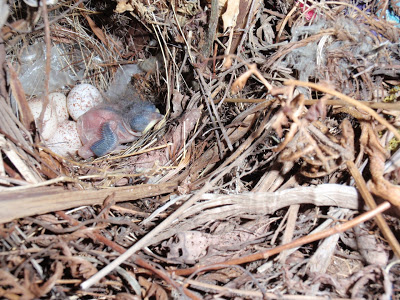 When Mama wren flies out of the garage early in the morning, I sneak up on the step stool to get a peek at our little guest-in-the-hat.
Baby wren is growing by leaps and bounds.
Barely 5 days old, it now really looks like a bird.
Its eyes are still closed, but the wings and the beak are now clearly evident. I think it has tripled in size since I first saw it on Friday.
The Mama sits in there with it most of the day, but doesn't appear to by flying in and out very often. She seems unfazed by the construction being done in our driveway as guys are sawing wood out there for our new wood floors inside. She's just focused on that little bundle of joy.
I doubt the other eggs will open now that it's been 5 days since this one hatched, but I didn't think this one would make it either, so I'm not giving up hope. In fact, I'm not ever giving up hope again!