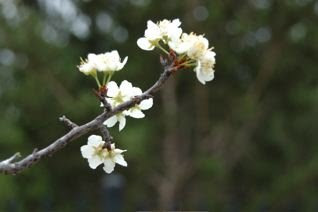 Garden bloggers around the world posted their blooming plant photos on Saturday for Garden Bloggers' Bloom Day, hosted by Carol at May Dreams Gardens.
I'm not only a day late and a dollar short, I'm TWO days late. But I think you'll enjoy the blooms anyway! I have 31 photos, but many of these are single plants or just a few blooms. The first photo is my little Peach tree.
That's all folks! The blooms are wonderful, and next is a layer of tiny little green leaves that are peeking up in various beds, the fruits of my efforts last year that, thanks to a mild winter for us here in Austin, have decided to grace us with their presence again. Even some plants that are normally annuals are coming back, like Impatiens and Begonias. More on them later as they get big enough to identify clearly in photos.
Happy bloom day!