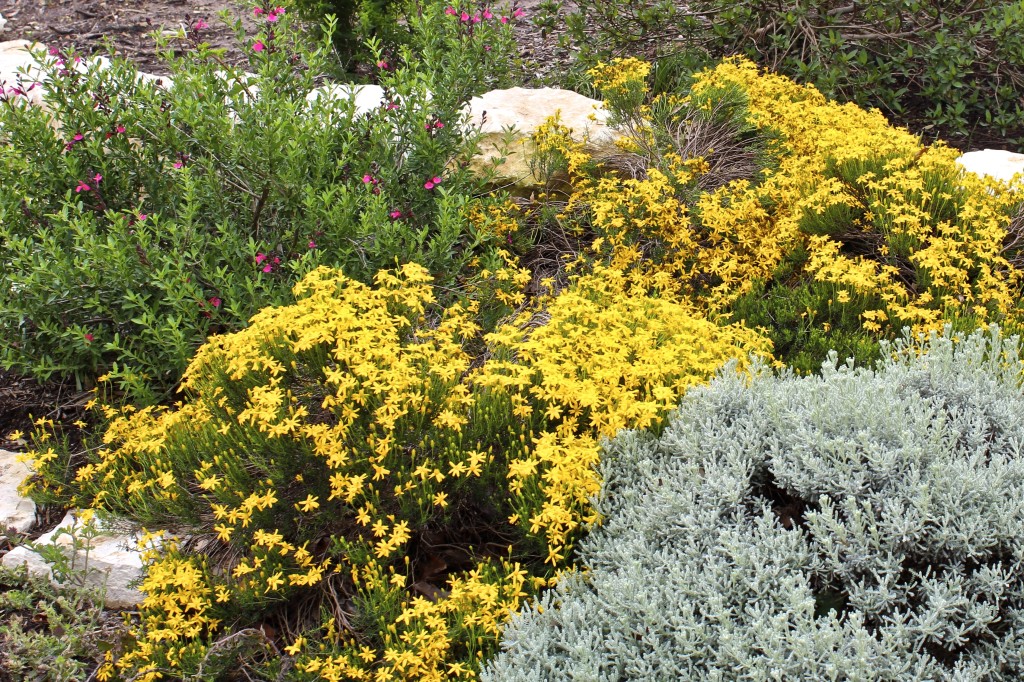 When writing about gardening in Central Texas, I routinely include tips for dealing with extreme heat and drought. Lately, however, I find myself focused on how to deal with rain – and lots of it. It may be an El Niño year this year, but the shortage of water has been an age-old problem and is likely to remain an ongoing issue in Texas.
While we can't control the weather, we can plan our gardens to make the best of a variety of challenging situations. We can garden smarter.
Most of the gardeners I talk to are eager to conserve water and to lighten their landscape maintenance load as they simplify their lifestyles.
It all starts with planning.  There are so many ways to organize plants in your landscape – by color, by style, by size, by design element. However, grouping plants by water needs should top the list when you're building a new bed or trying to update your landscape. Planting water-wise grasses in a bed with thirsty annuals will inevitably lead to unhappy plants unless you are committed to hand watering each of the thirsty plants individually.
Grouping shrubs and perennials and annuals into water use zones will help you use only the water you need for those specific areas. For example, I have many full sun, drought tolerant beds with plants that have low water needs. But I also have a shade bed with plants that need just a little more H2O, so I give them an extra hand watering once in a while – to keep my water use to a minimum and to target the plants directly.
Mixing and matching plants by water needs starts at home (as opposed to planning on the fly after an impulse stop at your favorite nursery). Good garden books, magazines, and websites provide detailed information about plants, including water, soil and light needs.  When checking national resources, be sure to look for plants that will thrive in our USDA hardiness zone, as well. Austin is generally Zone 8, with a few microclimate exceptions. The Native and Adapted Landscape Grow Green guide, published by the City of Austin and the Texas AgriLife Extension service, highlights recommended plants specifically for our area and details the water and light needs of each plant. Available at local nurseries, it's the perfect starting point for planning landscaping projects.
Once you've made a wish list and headed to the nursery, check to make sure plant labels indicate whether a plant has low, medium or high water needs. If you're not sure, ask the staff about their experience with particular varieties of plants as well.
Excellent tough-as-nails plants for our Central Texas area include native and adapted  grasses, agaves, cacti, yuccas, and woody perennials that can tolerate extreme drought conditions and miserable clay and limestone soils. A wide array of native and adapted plants—in any shape, size, color, texture or form—will thrive here with proper planting, care and water. Simply combine the right types of plants to create your favorite style—whether you prefer a Southwestern cottage look, a tropical design, or a more contemporary aesthetic.
I love the sculptural look of agaves and yuccas in the garden. I create contrast in my beds by pairing those dramatic elements with softer, gentler native or adapted flowers like salvias or grasses. Designing with complementary colors and forms and textures helps to add definition and interest.
Plant THIS with THAT
Some examples of interesting plant combinations with similar water needs include:
Low Water
Grey weberi agave and thryallis
Bright edge variegated yucca and Mexican oregano
Squid agave and prairie verbena
Raspberry salvia greggii and Mexican feather grass
Gulf muhly grass and silver ponyfoot
Medium Water
Radrazz knock-out rose and variegated Aztec grass
Sapphire showers duranta and coreopsis
Japanese aralia and river fern
Indigo spires salvia and bat-face cuphea
White tropical sage and society garlic
As you plan your next gardening project, start grouping the plants in your plan by water needs as well as design features – it will save you water, time and money.