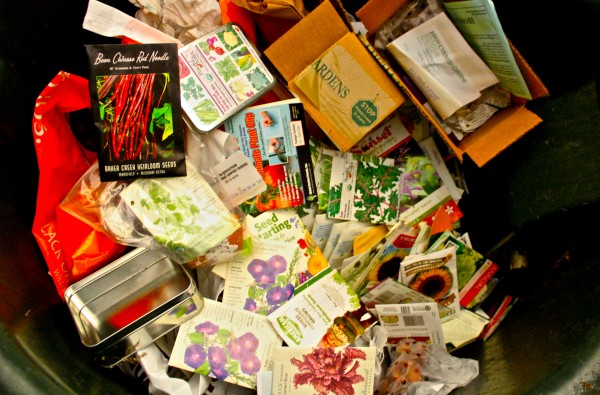 It's seed-sowing time in Central Texas.  Indoors, that is.  If you're eager to try some new varieties of vegetables in your spring garden, now is the time to check out seed catalogs and the seed displays at your local independent nurseries.
Seeds won't germinate in the garden yet. The ground is too cold. But if you have a greenhouse or a cozy indoor spot to keep them warm, you can start growing now.
Generally, the time to plant seeds inside is about 8 weeks before the average last frost date – for us, that's about early March in Austin.  Areas around the Hill Country usually have to wait just a little bit longer for the ground to warm up. With the unusual winter we've had thus far, it's hard to predict what the next two months will hold for gardeners.
Planting early and indoors will give your vegetables a nice head start so you will have well-established plants to put into the garden when spring arrives.  You can certainly put in transplants once the weather warms up, but planting from seed allows you to choose from hundreds of different varieties of vegetables since nurseries can only bring in so many plants to sell.
You can plant in many different containers – you can buy nice plastic flats with multiple planting holes or biodegradable pots that can be placed directly into your garden when it's time to transplant. Or you can repurpose washed out yogurt containers as long as you punch a drainage hole into them.
Many people are surprised to learn that you shouldn't use potting soil for planting seeds. Instead, buy small bags of specially-prepared sterile seed starter mix – it doesn't compact as much as potting soil and gives your tender seeds more room to germinate and grow.
I've had the best success with seeds when I used a heat mat.  Even in the warm house, the seed mix must remain at just the right temperature, and a heat mat ensures that continuous warmth for germinating seeds. You can find them at many  nurseries or online. You can also place your seeds on top of the refrigerator, but I forget about them up there and then…no seedlings. If you place them near a sunny window, remember to move them away from the windows at night because the cooler air by the window will lower the temperature too much for them to germinate. They have to stay warm, day and night.
Be sure that you keep the soil moist. You can water with a spray bottle so you don't disturb the seeds. As soon as the seedlings emerge, give them lots of light. You can put them by a window or place them under grow lights. Turn them regularly when they begin to lean toward the sun. If they seem long and stringy, they need more light. The first leaf shouldn't be more than an inch from the soil.
Now you can start watering your plants gently and letting them dry up a little in between waterings. You can move them to larger pots if you need to.  It's also time to give them a little liquid fertilizer like liquid seaweed or fish emulsion.
When the chance of frost has passed and the ground begins to warm up you're ready to put your seedlings into the garden. Not so fast, though. Seedlings need to be hardened off before they can be plopped in the garden. That's a fancy way of saying they need to get used to being outside in the elements since they've been babied in the house over the winter months.
Just take them outside into a shady spot for half a day for a few days, then for a full day or two and then slowly move them into the sun in the same way.
Remember, spring winds can be hard on delicate plants, so be prepared to give them some wind break if you need to. And my sweet transplants seem to emit a signal to insects that the buffet is open. You can protect the plants from some of them by cutting a solo cup in half to make a cylinder, and placing it around the base of your seedling until it gets a little bigger and stronger, just make sure it doesn't block the sun or the water.
Once you have all your seedlings planted, mulch, water and eat.