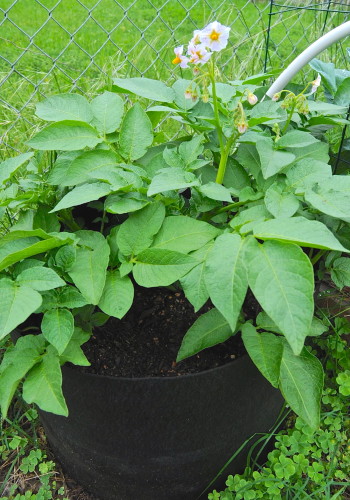 Many would-be vegetable gardeners are thwarted by a lack of space, impenetrable rocky soil or clay, or a shortage of sunshine. With limited space on a balcony or patio, too much shade or landscape conditions that aren't conducive to vegetable gardening, what's a wannabe green thumb to do?
The burgeoning gardening movement and the increasing national interest in growing vegetables at home has fueled the creation of many alternatives to a patch of rich soil in the ground.
Alternative growing containers are the latest trend, making vegetable gardening easier than ever, even for those who have been limited in the past. To go along with the increasing desire for small space alternatives, there are also more container-sized vegetable varieties now than ever before.
Patio gardens and garden container alternatives can be grown with just 5 or 6 hours of sun each day. Don't forget about vertical spaces, too. Hanging baskets can be used for lightweight greens and herbs and some fruits or vegetables will even grow in upside-down hanging planters. Some of the more popular container options include:
Grow Bags
Most vegetables, potatoes and tomatoes in particular, can be grown in a whole host of containers. From boring plastic pots to specially designed potato grow bags, trash bags, compost bags or even some of those plastic-coated grocery bags we all seem to be accumulating, bags are in.
Still adjusting to the new Austin disposable plastic bag ban, I've had to buy more reusable bags and now bags seem to be the latest freebie giveaway of choice for marketing items. I now have enough to cart home groceries for a year, so I might as well put some of those extras to good use in growing my own groceries.
Simply cut drainage holes in the container to allow the water to run out and fill the bag with four to six inches of good soil and compost. Roll the sides of the bag down a little so the young plants get enough sunlight when they are small – you can add more soil later and roll the sides up as the plant grows up. Keep a close eye on the moisture needs of the plant though – remember, containers dry out faster than soil in the ground. It will be time for fall tomatoes and potatoes in just a few weeks, so now would be a great time to start planning for your creative alternative garden.
Many garden supply companies and local independent nurseries also sell grow bags designed specifically for growing vegetables, if you don't want to do it yourself.
Straw bales
So, maybe you have a yard, but your yard is full of limestone or only has a few very small sunny spots. Straw bales are another alternative to the traditional in-ground vegetable bed. Individual bales can be placed together, to make one big bed that doesn't require any digging (an absolute plus), or bales can be strategically placed to make the best use of limited sunny spaces by scattering them around.
Just soak the straw for a few days before you plant – it will make it easier to dig a hole in the straw and it starts the decomposition process that adds nutrients to the soil. Then scoop out a hole and fill it with compost and you're ready to plant. A standard straw bale can usually accommodate 2-3 tomato plants, depending on whether they are determinate or indeterminate. (Determinate tomatoes grow to be medium to large-sized plants; indeterminates are, well, monsters, so plan accordingly based on the plant label.) Plant deep into the straw to give the roots room to grow.
Earth boxes
Earth boxes are another gardening space alternative growing in popularity. Earth boxes are self-watering containers with built-in water reservoirs that can keep the plants watered for several days. There might be excess evaporation exceptions for 107 degrees days, though. The boxes also have a built-in fertilizer band to help feed the plants on an ongoing basis. These containers can be purchased ready to plant or you can make one yourself. With a plastic bin, some PVC pipe, a few tools and a Saturday afternoon, you can create a unique vegetable garden that requires less maintenance and is a great solution for a deck or patio.
For step-by-step information about how to build your own box, check out this tutorial from Texas A&M.
There are many other container options for inexpensive and moveable mini-gardens, too. Consider large 5-gallon plastic buckets, leftover from house projects, bird seed, or containers being discarded by restaurants or grocery stores. Other options include wooden barrels, galvanized tubs, even bushel baskets. Just make sure the container has adequate drainage by poking holes in the bottom. And, if you'd rather not look at a white plastic pickle bucket housing your tomatoes, you can spray paint your container to match any garden decor.
Local Landscape Designer and Garden Coach Diana Kirby provides landscaping tips at http:/www.dianasdesignsaustin.com and writes a garden blog at http://www.dianasdesignsaustin.com