Against the backdrop of the rugged Santa Catalina Mountains, tough, structural plants dot the landscape of the Sonoran Desert.
The Garden Writers Association Symposium Tucson, Arizona, included several days of tours of local gardens — an excellent introduction to the unique beauty of the desert.
This is the view from the lobby of the La Paloma Resort where the symposium was held.
Cacti, yuccas, hardy woody perennials and trees thrive in the desert, where the temperatures soar into the 100s throughout the summer, yet also dip below freezing in winter.
These cool, columnar Mexican Fencepost cacti (Pachycereus marginatus) bring height to the flat desert expanse.
This desert garden was full of nooks and crannies filled with smaller species of cacti and aloes. With approximately 2,500 different species of cacti, and about 400 different kinds of aloes, there are plenty from which to choose.
Pots and other garden art and decor provided strong bursts of color in many of the desert gardens we toured.
This citrus grove at the Benedictine Order of the Sisters of Adoration was lush with fruit. The trunks are painted white to help cool the trees.
There were some more tropical plants — like these palms — throughout the desert, though clearly they require much more water to survive the harsh climate.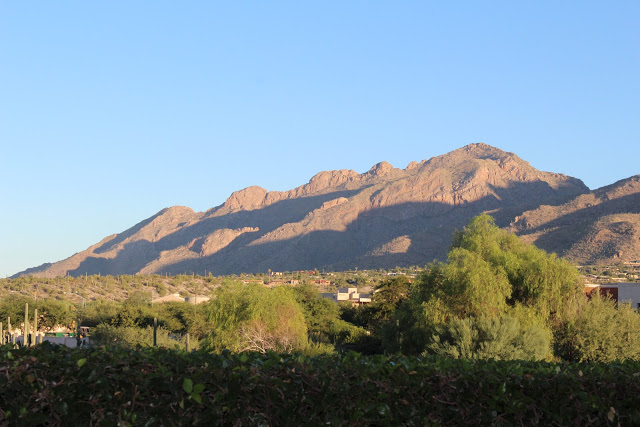 The light on the mountains at dawn and dusk was stunning. Inspiring hues of coral and lavender wash over the horizon, enveloping the harsh landscape in a robe of gauzy color.