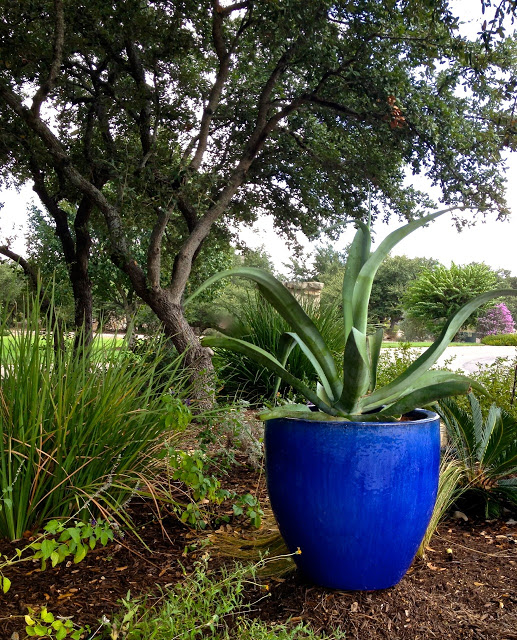 It's hard to plant when it's 100 degrees. And it's not time to buy seeds yet. And if I order bulbs they won't come for months.
But this pot spoke to me when I walked by it Friday at Barton Springs Nursery.
It said, "wouldn't I make a beautiful focal point for the black sheep bed at the end of the driveway? Wouldn't I make the other bed across the driveway jealous? I know you want to take me home."
I ignored the pot's pleading and walked on down to the agaves.
That's when this octopus agave whispered to me, "wouldn't I look stunning in a cobalt blue glazed pot? I know where you can find one."
Now, I'm used to talking to myself, and I'm used to answering myself. But when pots and plants start to talk back, it's time to listen.
So, into the car they went. And this morning I grunted and groaned as I raised up the pot, planted the agave with no spiky injuries and stood back, saying to myself,
"Isn't this a beautiful focal point for the black sheep bed at the end of the driveway? And isn't that agave stunning in the cobalt blue glazed pot?"
To which I replied, "yes, it is."