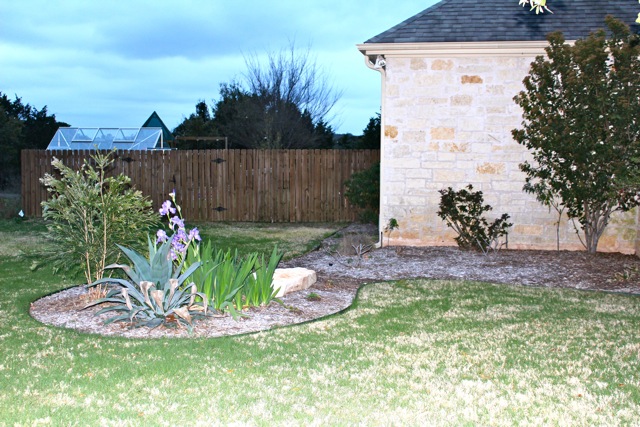 It's spring. Well, okay, it's not quite spring yet, but it's spring here in Central Texas for all intents and purposes.
It's time to start the vegetable garden, to amend the soil, to pull lots and lots of weeds. And, it's time to start planning those garden projects that have been nagging at me all winter.
Let's be clear, every single bed has a project of some sort. There are holes to fill where the drought decimated plants we thought were indestructible. There are holes to fill where the 3-day below freezing cold snap the winter before killed things or stunted them so much they were never the same last summer.
There are a lot of holes to fill.
But this is an entire area that need revisiting. In the bed above, I actually started out with a plan and a vision of a tall, beautiful bottle brush tree with it's deep red, wispy blooms set against the strong, structural contrast of a smooth blue agave with deep purple 'May Night' salvia scattered all around.
The best laid plans…
Three winters ago, I lost the first bottle brush tree and agave to an abnormally cold freeze. I'd planted the tree in the fall and wondered if it hadn't had enough time to get established before the cold. So I replanted — another agave and a bigger tree — and I planted them in late spring.
Then we had another unusual cold snap and I lost the second tree. And the deer messed with many of my little salvias.
Early last summer, the bottle brush began to come back from the roots. After a few months I had a nice shrub…the same size as the agave. Not exactly the contrast I'd envisioned. In the meantime, a few irises I'd plopped in there began to grow and spread. And I hated the bottle brush shrub, but I didn't want to kill it – it offends my gardening sensibilities to kill a plant with that much will to live.
A few weeks ago I pruned the bottle brush back into tree form. Multi-trunked, but still pretty and growing like crazy. The agave looks bad after one or two light freezes this winter, and it needs pruning. It's also been taken over by the irises. (They are stunning right now) But they don't go next to the agave – the form is too similar, their colors don't work together…I could go on and on.
Further up the bed toward the house I originally had a dwarf crape myrtle in deep burgundy. It was literally cut in half by my guys on a pruning #fail. Some transplanted loropetalums didn't survive there and there is one pathetic knock-out rose left hiding there.
This will be my first spring project. The bottle brush? Gonna keep pruning – it stays. The agave? I'll prune it and think about it. The irises? They will move when the time is right. May night? Nah – something tougher will take their place. Some grasses might find their way there. I'm still hooked on the burgundy, deep purple, silvery gray color combo. Indigo spires would be delightful, but that's a very windy spot and at their height, I fear they'd be whipped around like crazy there. But I know what I want there, so it will come together if I take my time.
I might even treat myself like one of my clients and draw out a plan.
Or not…
Stay tuned.
Two more beds to go…but I'll save them for another day.
What's your first garden project for this spring?