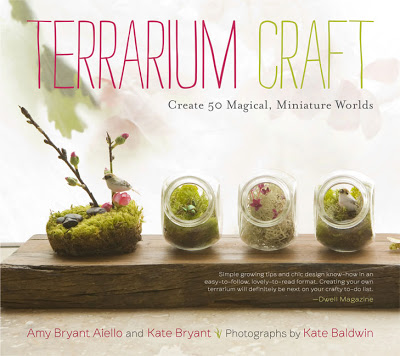 It's hot here in Central Texas. I know you've heard me say that before, but it's really hot. We've had more than 25 days over 100 degrees since late May. We normally have an annual average of 12 days over 100. That makes gardening tough. Planting is impossible and even established plants and trees are struggling just to survive.
When the heat exhausts me and I'm forced indoors, I miss my garden. But when one door closes another door opens, and I find refuge in my garden magazines and books (and the air conditioning!)
So, I was excited when my friends at Timber Press sent me Terrarium Craft to review. I sat down with my preview copy and a tall glass of iced tea and had myself a little eye candy.
I grew up with an enormous floor-sized terrarium. My Mom created it and we had it as far back as I can remember. It was a beautiful bluish-green and I was always amazed at how the plants grew and thrived in that bottle.
The first thing you notice about Terrarium Craft is that it's full of beautiful photos of the most creative little vignettes. It took me a while to start reading because I was mesmerized by the amazing miniature worlds.
The book provides a blueprint for 50 original projects, including options for materials, plants, and techniques. And it's designed to spark your creativity and inspire you to make your own magical little glass world.
There are so many choices to put in your terrarium – sand, stones, shells, sticks, and even ball moss, with limitless possibilities for memorabilia.
After outlining information about all the categories of materials, the next section provides step-by-step instructions about how to assemble it all.
Then, pages and pages with an amazing array of terrariums — beach, forest, desert and fantasy terrariums.
Inspire me it did. Now I'm trying to decide what special things I want to put in my terrarium. Given my love of birds, I think it will include a little ceramic bird and some branches.
Now I'm going to walk around my air conditioned house and see what little goodies I can collect to put in my own special little glass world.