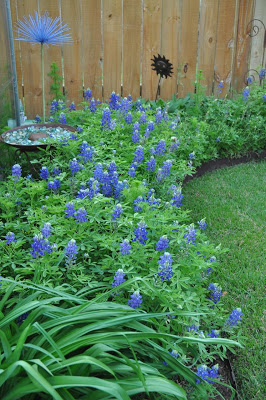 It's not a great year for wildflowers in Central Texas. Our drought has affected this year's crop.
Roadways normally awash in a sea of beautiful bluebonnet blue are sadly green.
Some other wildflowers are popping up, but the bluebonnets are either absent or very small and scattered about in sporadic patches.
But in my backyard, there is water. A few early spring sprinklings gave my bluebonnets just enough to put on a spectacular show.
Well, spectacular for me. With a thick layer of mulch in most of my other beds, I haven't been able to get planted bluebonnets to reseed. But when I planted them and seeded them in the unmulched soil of the cutting garden, they rewarded me with a pretty palette of blue.
I'm missing them as I drive along the roads of Austin, but I'm so glad I can walk out back and enjoy a few of them this spring.