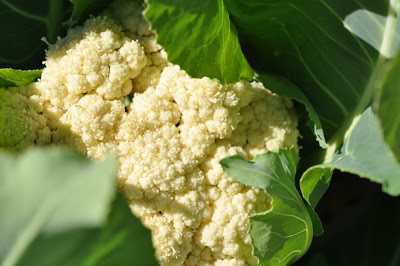 Today I picked two small heads of cauliflower in the garden. This is my first year to grow cauliflower and it was so easy.
I meant to take photos of it when I washed it and when the casserole was done. My focus on getting to the eating part must have affected my memory and I completely forgot to take photos.
Last week I found my old recipe box with a solitary recipe card sitting on top of it. Yellowed with age, I probably copied it out of a magazine or the newspaper at least 25 years ago. (oh, no, I meant to write more than 5 years ago. I'm really not that old, really I'm not!) But I'm certain that I never made it.
Today I made it with my home-grown cauliflower. It was simple and delicious. And since I couldn't invite you to dinner, I thought I'd share it the recipe with you!
Cauliflower in Cheese Sauce
1 head fresh cauliflower
2 cups bechamel sauce
1 cup grated cheddar cheese
4 oz. dried beef
buttered breadcrumbs
Cook cauliflower until tender. Make bechamel sauce (melt butter, make a roux with a little flower, add milk or cream & cook until thickened. Add nutmeg. Do NOT salt or pepper this.) Cut dried beef into very small bits. Add to sauce with cheese. Place drained cauliflower in greased baking dish. Cover with sauce. Top with a little extra cheese & buttered bread crumbs. Bake in oven long enough for everything to melt together and get hot. (350 degrees) 4-6 servings.
So yummy. Though I did taste a sample of the cauliflower when it came out of the boiling water so I could actually get the flavor of it all by itself. It was great.
What a fun process – growing them from seed in my veggie garden, photographing it, picking it, cooking it, and eating it. And now blogging about it and 'sharing' it.
Doesn't get much better than that for a gardener.
What are you eating out of your garden?