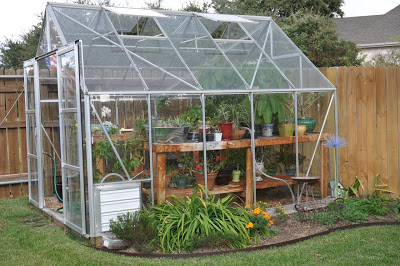 Last week's cold weather scare sent many gardeners (including me) scurrying for sheets and towels and shoving plants up against the house.
And of course it did not freeze. Not even close. But that's the nature of, well…Mother Nature.
Because I heard the freeze warning late in the day, there was no way to get all the plants into the greenhouse, especially the big monsters that I simply cannot budge.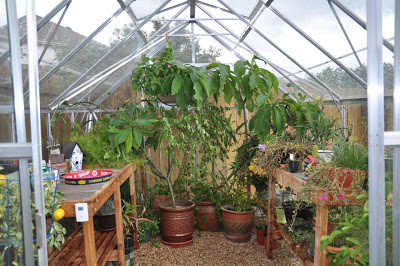 So, today I got some help to move the giant pots to get the hardest part of the move situated. Then I spent most of the day putting in the rest of the children…I mean, plants…

The biggest challenge is using sun-lovers to provide enough shade for more delicate plants that spend their summers under the part-time protection of the back patio and the cabana. So plants have to be carefully placed so as not to scorch or get leggy. Then there's the issue of enough room for me to get in there and reach back windows and have some space to work.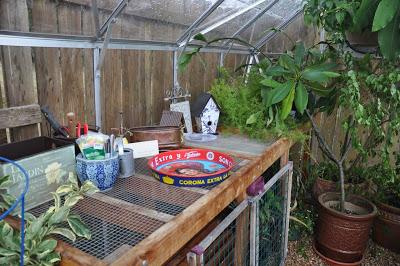 This is the work space – just enough for repotting, cleaning up plants and preparing seeds.
The daily watering starts again now — with the cooler weather, these plants have gone up to 3 days without water around the back patio area. In the greenhouse, it will be too warm yet during the days to let most of them go more than a day.
With a forecast of 60s for the low tonight, they are sleeping with the windows and door open tonight. The cold front arrives tomorrow – 58, and next week we'll be in the low 40s at night. Then the plants will be very glad to be in the greenhouse with the heater on.
Let the winter begin! Are you ready?