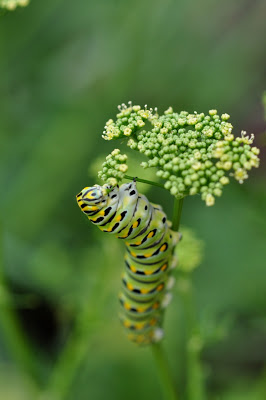 My parsley in the veggie garden has surpassed the term 'plant.'
It's really a bush, now.
A very large, burgeoning bush.
Bursting forth with green growth all over.
It's easily 3 feet tall and 3 feet wide.
But look who's come to dinner to help take care of that for me!
My big, burgeoning bush is covered with caterpillars, having a big ol party!
I caught this guy actually eating on the parsley. I could see him chomping – jaws and all!
I want to pull out the parsley because it's taking up so much garden space, but I guess I'll have to wait until the party's over! I have watermelons that would like that piece of soil, but they are just gonna have to wait their turn, I guess.