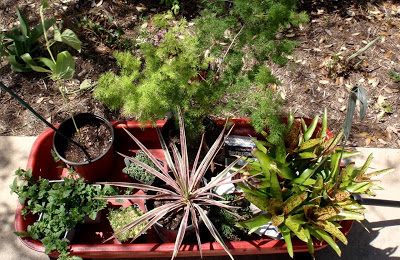 I had a delightful day yesterday with my parents at the Zilker Garden Festival. It's the plant event of the year in Austin, and my favorite thing to do. We've been going for at least 20 years and I never tire of it.
Vendors come from all around to sell plants and pottery and garden art and other crafts. There is a kid's corner and music and food and it's just the most wonderful time.
I filled my wagon this time (I usually do) and am so pleased with the interesting things I found:
Ming Fern
3 Homestead Verbena
2 sedums – 1 variegated no-name and 1 pulchellum Sea Star
1 Mock Orange Philadelphus coronarius
1 spotted Bromeliad
1 Dragon Tongue Bean
2 bags of Tulipa Clusiana bulbs (gave one to my Mom and Dad)
1 Aloifolia Yucca (pink and lime green variegated)
I like to buy unusual things at ZilkerFest, because the nursery vendors tend to bring their best or most interesting specimens to show.
Today I planted bluebonnets, 3 tomatoes, 1 pimiento pepper, horseradish, chamomile, and my Space saver cucumber seedlings. I also planted two passalong Baby Blue Eyes that Bob at Draco Gardens brought to the Design A Go Go.
I still have some Society Garlics from my friend to passalong for any Austin area gardeners who need some. Let me know if you want some!
Another beautiful day is on tap for tomorrow … wonder what trouble I can get into the garden tomorrow? Do you have garden plans for Tuesday? Or the rest of the week?