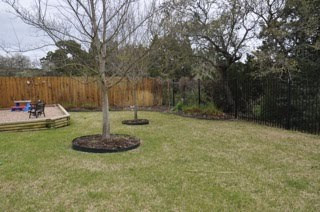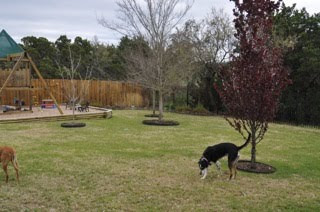 This is it. My boring, inspiration-less corner. The subject of the Austin Garden Bloggers Design A Go Go this weekend to brainstorm with me about what to do in that back corner.
First rule, however, is that dogs must roam. They love to race to that back corner and watch for deer and other critters through the fence. Since I know that isn't going to change because I put some inspiration over there, the dogs have to keep a path behind whatever I do.
I'd really like a garden room – some almost enclosed area with a focal point, but with a hidden element as well. It could cover part or most of the front of the playscape, too. I'm open. Might like a nice cedar arbor back there.
I'm just tired of competing with the dogs for the space and the bed that's there, while nice enough when in bloom, was a put in as a filler. I've removed some of my original shrubs in favor of more perennials, too. Now the bed holds bi-color iris, Esperanza, Butterfly weed, Coneflowers, some pass-along bulbs, Ruellia, and an Abutilon. The fences have Crossvine and Wisteria on them. The trees in front of the area are 2 Lace Bark Elms and 1 Big Tooth Maple.
The existing corner bed gets morning and mid-day sun and late afternoon shade on the right side.
So, are you inspired when you look at these pictures? Something amazing pop into your head? Think you might have an idea to share with me? I'd love to hear it. All inspiration welcome!