Japanese Quince
Hope springs eternal was the first thing I thought as I captured a few more early spring blooms in the garden this afternoon.
Then I wondered, does this saying have anything to do with the spring season?
Sadly, no. It originates from Alexander Pope's 'An Essay on Man' (1733-4), and speaks to human nature in general.
Nothing about gardening or bulbs popping up to surprise us.
Oh well. Hope really does spring eternal for the gardener, though.
And those of us in Central Texas are holding onto our hope with both hands these days. Just waiting anxiously for the official thaw to evaluate our gardens and determine which plants we can dare to hope might survive this brutally cold winter.
Mid March is our official last average freeze. (Average being the key word here, in a season and a state where we have seen nothing average for several years, in fact.)
Then we have to wait for things to grow. And many of these plants that were so damaged by the cold, may also be very slow to come back.
But we're holding onto our hope, by golly. I have many plants for which I am holding out hope — my biggest concern is my Eureka Variegated Lemon tree.
For which plants are you holding onto hope?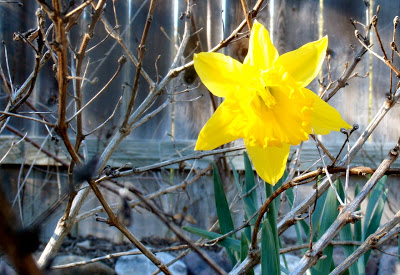 Daffodils