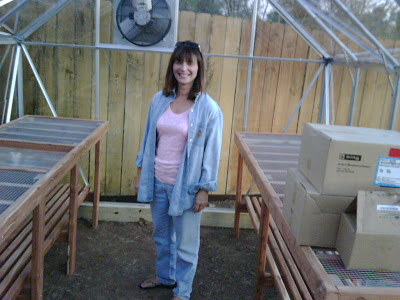 My DH took this picture of me in the greenhouse as I was giving him the tour after it was finished today!  (Not the best photo, but he took it with his Blackberry – I'm just glad to have it!)
So now I am itching to be able to put plants in there…which will be very limited until our hot weather cools off.  Plants would broil in there now — it's 85 degrees for the highs these days.  
Electrician and plumber come tomorrow and pea gravel for the ground on Monday and then some agaves and cacti and succulents are going in there.  I'm sure I will put some cute little doo-dads in there pretty quickly, too!  
Merry Christmas!