Carol at May Dreams Gardens invites us to share what's blooming in our gardens on the 15th of the month and bloggers around the world join in this sense of community to appreciate each others' work and species and climate.
There are just a few things blooming in my garden on this Bloom Day. This geranium is just the most delicious color of salmon that I had to have it. It's another of today's nursery purchases, along with a statue and a Japanese maple (no blooms there – just sticks!)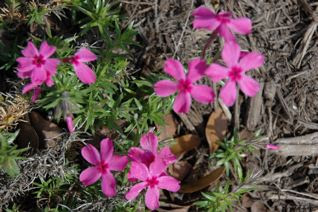 These little phlox love the cooler weather. (I can barely keep them alive in the heat of August), so they're happy now.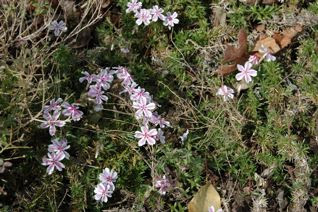 Even in our temperate Texas climate, most things in my garden are starting to sprout up, but haven't sported buds or blooms yet.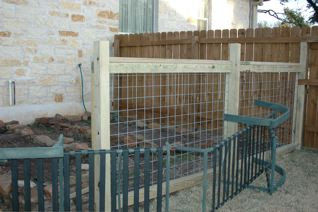 Here is my partially completed fence! We still need to put a gate on and then I'll put an arbor in front of the gate.
While they were hammering away, I was fantasizing about little brackets for hanging plants and garden decor, finials for the tops of the posts, and other decorative touches! I guess a fence isn't just a fence to me.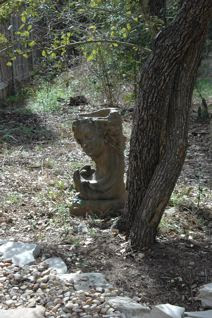 And this is my new-found friend. I fell in love with her while doing some Spring Fling business at a fabulous local nursery, the Great Outdoors, (they have a Blog, too) and just couldn't walk away from her. She's intruiging, and I knew I had the perfect focal point spot for her at the end of a river rock pathway. So, she's mine, now. I want to name her; still mulling over options — something classic, yet unimposing, warm and inviting — any suggestions for naming my new garden friend?